« All Posts by this Blogger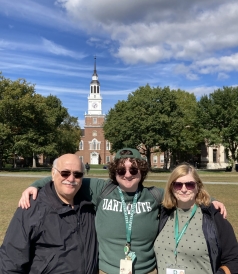 The Festivities of Family Weekend
I have now survived three full weeks of college – Hooray! 
Wrapping up the end of Week 3 has brought an extra treat – this weekend was Family Weekend!
Family Weekend at Dartmouth is a time where the parents and supporters of seniors and freshmen ('23s and '26s this year, respectively) are invited to campus and treated to an array of activities, talks, open houses, shows, meals, and, most of all, time to spend with their students. 
Since you, the reader, may be involved in a Dartmouth Family Weekend of your own in the future, I've decided to write about my experience this year, to give you an idea of what you could be up to this time next year!
[Before I reflect on my weekend, a disclaimer: having parents, family, or other supporters visit isn't viable for everyone. And that's okay! I promise you, if that's the case for you, you won't miss out on anything. Lots of my fellow '26s didn't have family come– so you won't be alone! And as with every weekend on campus, there are lots of fun events, get togethers, and parties, so you'll have plenty of social engagements to attend if you choose.]
Disclaimer finished, now it's time for the highlights reel!
The Meet Up 
I finished up some studying in my dorm room, tidied up my space, and did a load of laundry– everything about it felt like a normal Thursday at Dartmouth. Until, at 5:00pm, I walked out of my dorm building, across the street, and into the arms of my mom and grandparents for a big hug!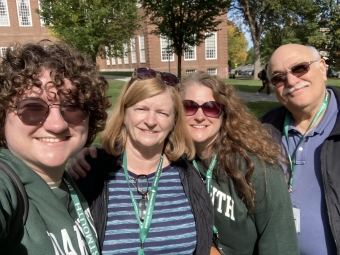 Food at Foco
After my Friday morning class, I met my family in the center of the Green, and then we headed to Foco (aka, the Food Court dining hall, or Class of '53 commons) for lunch. They got to meet my close friends and have a yummy meal courtesy of Dartmouth Dining.
Rauner Special Collections Library Tour
After lunch at Foco, we headed back to Rauner's Special Collections Library for a tour – part of the Family Weekend Programming – where I learned the Shakespeare text I'd read from that morning in class was an edition of the First Folio of Shakespeare worth $3 MILLION – a fact which both blew my mind and made my mom a bit jealous.
Baker-Berry Tour
Right next door to Rauner is Baker-Berry Library, where I gave my mom and grandparents a tour of my favorite study spots (which will definitely be a future post...).
Talks and Receptions…
While I headed to a rehearsal, my family went to one of the featured talks of Family Weekend called Cracking the Code: Doing Well Academically. This was the only one my mom and grandparents went to, but there were tons over the course of the weekend – in addition to other open houses and tours. Afterwards, we met up at the Family Reception on Tuck Mall Drive, where we all helped ourselves to some yummy refreshments.
Shopping
Family Weekend is a great time to go shopping with your parents or supporters – in all likelihood, you have easy access to their car (and credit card) to visit stores and stock up on necessities. For example, we headed to L.L. Bean where I got a winter jacket and some boots. Just in time too, because the temperature is dropping into the 30s later this week.
We also went to the Dartmouth Co-op where my mom got a jacket, my grandpa got a sweatshirt, and my grandma got a "Dartmouth Grandparent" hat. After that…
Hanover
…we walked around Hanover! It's a super cute town with lots to offer – I'll definitely do a post about it later – and we had a couple of meals in town over the course of the weekend too, courtesy of the many awesome restaurants!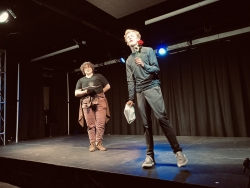 Shakespeare Show
Saturday night, The Rude Mechanicals (the student-run Shakespeare Company that I'm in) put on a Charity Show! The show went spectacularly, and we raised lots of money for Opening Act, a charity based in NYC that works to provide access to arts education in underfunded schools. And, my mom and grandparents got to watch my first performance on a Dartmouth stage!
East Wheelock Family Weekend Brunch
Sunday morning my residential house, East Wheelock, hosted a brunch for Family Weekend. My mom and grandparents met our house professor and administrative assistant, munched on some food and drinks, got some East Wheelock merch, and had a good time on our house patio.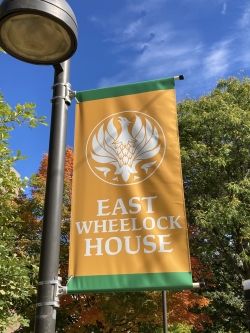 Goodbyes
Sunday afternoon came. We took some last pictures together on the Green, and said a tearful goodbye with lots of hugs. I told my mom (who did the bulk of the crying – if you're reading this, I love you mom!) that one of the good things about Dartmouth's 10-week term is that by Thanksgiving, I'll have already hugged them again.
TL;DR: I'm really thankful that Dartmouth hosts such a lively Family Weekend with lots of activities and events that you can take advantage of – but you can also just chill with your family and eat good food in and around Hanover for a weekend. It's an experience that will be different for every student, but I hope it will be one that you, the reader, will enjoy in the future.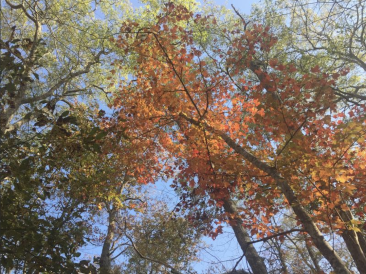 I interviewed Jeneen DiBenedetto Graham '96 about her Dartmouth experience and gained vivid insight about her reflection.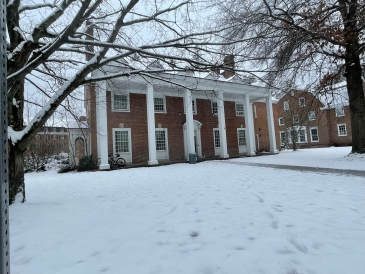 If I were to tell myself in high school that I would join a fraternity, I definitely would have laughed in my face and said something like "you're so goofy for thinking I'd ever do that." Now, here I am.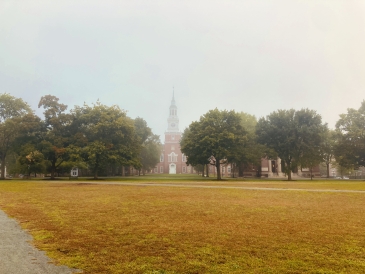 Whoops! Wrong preposition – Getting Sick AT Dartmouth! An overview of my first experience falling ill away from home.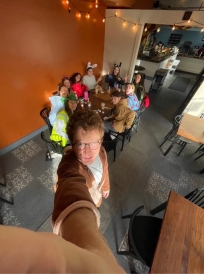 This week I talk about one of my new extracurricular involvements on-campus - working with DREAM!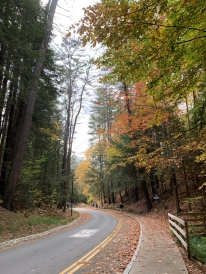 As finals approach and my countdown for winter break, I reflect on my first term here as a Dartmouth student–the traditions, classes, routines, and connections that have defined my first-year fall.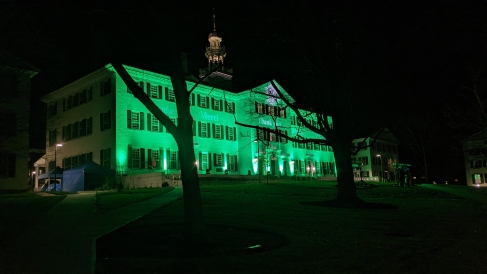 I'm 1/3 of the way done with my Dartmouth career, and I've learned a lot during this term alone. Let's do a recap of the past ten weeks!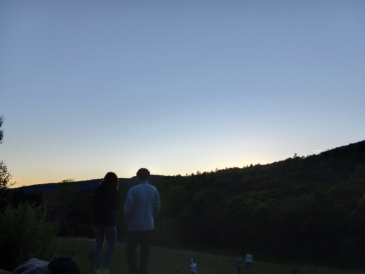 Here is my last blog post for this term, so I wanted to end it on a positive note. Here are the best moments from 22F, my favorite term at Dartmouth so far!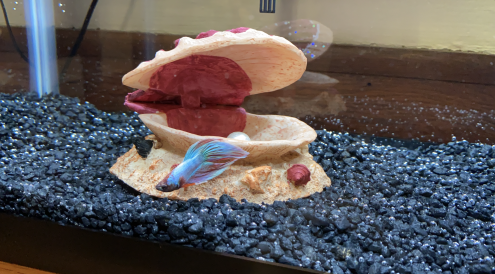 Firstly, the most important update is that last night my friend, Sherry '24, named me as the Godfather to Rory, a one-year-old beta fish.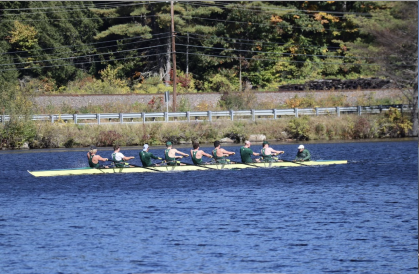 I sat down with my friend Conor to talk about being a DI athlete on the Men's Heavyweight Rowing Team.