« All Posts by this Blogger
Generous Gift Will Expand Off-Campus Programs
"There is no better way to promote peace in our world than for young people to immerse themselves in different cultures, getting to know new people and expanding their worldview firsthand." - Frank J. Guarini '46


Photo taken by David Klinges '17, while on the Biology FSP in Costa Rica and the Cayman Islands during winter term 2016.
Frank J. Guarini '46, a former New Jersey congressman and U.S. representative to the United Nations, has committed $10 million to support Dartmouth's off-campus and foreign study programs—adding to an earlier commitment of $10 million for a total endowment commitment of $20 million to Dartmouth.
What does this mean for Dartmouth students? New opportunities for students to study in countries around the world, learn from people across many cultures, and expand their expertise in language, diplomacy, and global issues across the spectrum of arts and sciences. Dartmouth is already among the top in the Ivy League for study abroad participation, with 55 percent of Dartmouth undergraduates engaging in more than 40 off-campus learning opportunities in 29 countries.
Learn more about Frank Guarini '46 and his generous gift in the recent Dartmouth News article.
As you may have seen here in my blog, I went on the Anthropology and Linguistics Foreign Study Program in Auckland, New Zealand this past winter.
Iona is a small island off the west coast of Scotland in the North Atlantic Ocean.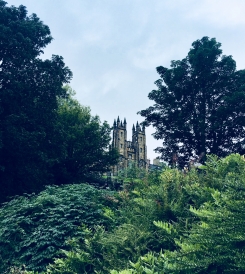 It's officially been two weeks since I packed up and flew across the ocean to begin my study abroad program at the University of Edinburgh. Studying abroad has been on my college to-do list since high school.
A lot of Dartmouth students who are "off" that term visit campus during big events like Homecoming, Winter Carnival, and Green Key.
While Hanover might be a peaceful and secluded town, I've learned that the outside world isn't so far away.
Hello from Edinburgh, Scotland where I am settling into my apartment and exploring the city in preparation for my study abroad term! I will be spending this term (18F) studying at the University of Edinburgh's New College School of Divinity.
It's 10:53 and I'm writing this from a bench outside of my best friend's dorm room. I have a sweater on because it's cold, the type of cold that reminds you that fall is just around the corner.
I get a lot of questions from prospies and students at other colleges about what I do in my free time since Dartmouth is "so rural," and whether I'm bored in the summer without the Miami beaches that I'm used to.

If you had told me in high school that I would go abroad six times in my first three years of college, I probably would not have believed you.