« All Posts by this Blogger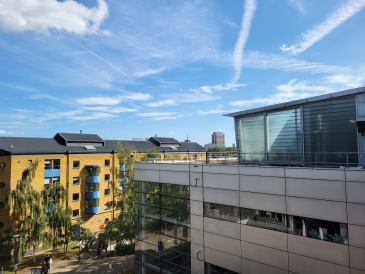 Exploring Queen Mary & London
Hello, once again, from London, where I will be spending my fall term, doing a Foreign Study Program in English and Creative Writing at Queen Mary University of London! It's been a little over a week since I moved into Queen Mary halls, so let me tell you a little about what I have discovered so far in Queen Mary's campus and the similarities/differences between Dartmouth's campus!
As you may already know, Dartmouth has one big (269-acre!) campus in Hanover, New Hampshire, that includes the undergraduate schools as well as the medical and graduate schools. Unlike Dartmouth, Queen Mary University of London, as the name implies, has city campuses. It has a few different campuses across London, housing different schools. I am staying at the biggest Queen Mary campus that houses primarily undergraduate schools and undergrad students in Mile End. Queen Mary is one of the few universities in London that is campus-based, meaning that I can leave my dorm and be at class in about 10 minutes maximum, just like at Dartmouth. Such convenience is a luxury for London's city universities, as most students have to commute to class using public transportation. I am grateful that we are the first cohort of Dartmouth students that will be housed in Queen Mary dorms instead of flats in central London, which would have been around 20-40 minutes of public transportation depending on where you live. I am lucky that I get to have access to such a modern and comfortable campus while being close to the center of London. Plus, you can meet almost all of your needs in the Mile End campus. We have two shops, a student gym, and a cafe run by the Student Union at Queen Mary.
I am fairly settled in my dorm in Queen Mary, which is a single room with a full bath! It is a difference from Dartmouth for sure, where I stayed in a two-room triple with a half-bath, sharing a living space with two of my best friends. Don't get me wrong, I love having my own space at Queen Mary, but I understand that it can get lonely quickly. That's why I am happy that we are a cohort of Dartmouth students all living on campus. It is easy to find people that want to explore London with you! Plus, we are still having trips organized by Dartmouth. For instance, last week, we had a trip to see St. Paul's Cathedral. It was the first cathedral I have seen and the atmosphere was mesmerizing. I cannot wait to explore more of London's cultural landmarks!
Stay tuned for more London adventures!