« All Posts by this Blogger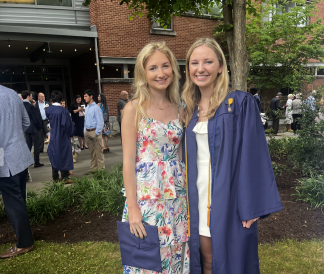 To New Beginnings
Now if you're wondering, no she's not going to Dartmouth. While it would have been amazing to have my sister with me at college, she chose another university that best fit her goals, and I am so happy that she will be a short ten hour drive from me now (7 hours shorter than Atlanta)!
As she walked across the stage to receive her diploma, I couldn't help but think about all the opportunities ahead of her as she heads off to college.  
To the high school seniors reading this heading off to college or starting to plan for college, know that there is so much ahead of you for the next four years. 
Whether you know exactly what you want to do or have no idea, college is a time to really explore who you are and what you want to do for the rest of your life. 
Going into college, I was very set on being a pediatrician with a Classics major. During my time at Dartmouth, not much has changed in my plan except for a slight major modification with English. With the Classics department being very accommodating to my plan and with phenomenal professors, it has been an easy choice to stick with the major I applied for.
As for my sister, she is very much still deciding her future. I have advised her to fulfill her university's general education requirements during her first semester so that she will experience a wide range of subjects and hopefully come away with an inclination toward one or more. 
To Maggie, I'm so proud of all you've done (here's to you being on the Georgia 6A State Tennis Championship Team!) and so excited for where you are headed. To all seniors, take advantage of all that college has to offer and study areas you really are excited about. If you thought four years of high school flew by, college is even faster!