« All Posts by this Blogger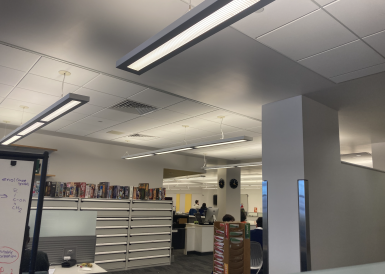 Favorite Library Spots
When you look at pictures of Dartmouth, one of the most popular images is of Baker-Berry Library, which is our iconic building in the center of campus. While you've seen the outside of this building, you might be wondering about what goes on inside. 
There is a research librarian for every field of study at Dartmouth, and I have consistently gone to the Classics librarian for guidance for my research work. The librarians are more than happy to pick out several books that fit the exact needs of a school or research project. While there are plenty of paper books, the Dartmouth online library features many more works conveniently on your laptop.
Within the library, spots for studying are plentiful. We have a unique naming system for the spaces in Berry. FFB is First Floor Berry, 2FB is Second Floor Berry; you can probably guess what 3FB and 4FB are! As the floors increase, it gets quieter. FFB is a lively space where many people do group projects as well as socialize. On 4FB, it's so quiet that everyone will hear a pencil drop. You get the idea!
When students are in a total grind mode, they often go to the Stacks, which is a silent space where all the books live. This is often a very popular place during finals period!
Most often you'll find me in the Tower Room, which offers a cozy environment that is especially nice in the winter. If you need a visual, think Harry Potter Hogwarts for this space.
Students often like to take a break from the books with Novack Cafe, which features different drinks and pastries, offering a nice social atmosphere in stark contrast to some of the more studious spaces in the library.
The Dartmouth library is not only a space for studying, but also a place to see classmates and friends alike all in one place.