Monday, July 23, 2018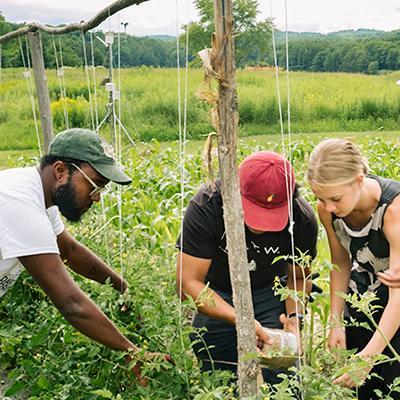 At Dartmouth, green is more than just our school color. From what we study to how we live, sustainability impacts every aspect of life at Dartmouth.

This summer we are thrilled to offer a specialized immersive campus visit for prospective students interested in sustainability as a course of study or a way of life. Join us on Monday, July 23, 2018, for a Sustainability Open House hosted by the Dartmouth College Office of Admissions.

In keeping with Dartmouth's small, close-knit community, attendance at this special program will be kept low to ensure each participant has a hands-on experience. Sign up early, registration is required.

During this unique visit you will
Hear from Dartmouth's scholars who teach: faculty who are leaders in their fields,

the experts quoted by the media

, and mentors in our classrooms.

Get your hands dirty at the Organic Farm, a hub of hands-on learning at Dartmouth. From the working garden to the faculty and student research hosted at the farm, the O-Farm is a place where macro-impact research meets micro-scale projects, and the results are often groundbreaking. Current students and staff will guide you through this stunning landscape and share their work at various stations along the way.

Enjoy lunch in Dartmouth's dining halls and talk with faculty, staff, and students about the way sustainability can weave its way into a wide variety of majors and minors at Dartmouth.

Round out your day with a campus tour and optional Q&A with our Admissions and Financial Aid staff.
As a majority of this day's events will take place at Dartmouth's Organic Farm, we encourage you to wear clothing and shoes that would be appropriate on a working farm. Events will include walking and time outdoors—sunscreen and bug spray are approved for use on the farm grounds. Travel will be provided, and restrooms, shade, and seating will be available.
Tentative Schedule
8:00 – 9:00 a.m.  Check-in
9:00 a.m. Welcome
10:15 a.m. – 12:15 p.m. Interactive sessions with faculty, students, and staff at the Dartmouth Organic Farm (transportation to the farm will be provided)
12:30 p.m. Lunch at the Dining Hall
1:30 p.m. Campus Tour
2:30 p.m. Admissions and Financial Aid Q&A
Schedule Changes: Campus life is always evolving—events, content, and locations are subject to change.