Friday, July 12, 2019 • 8:00 a.m. - 3:00 p.m.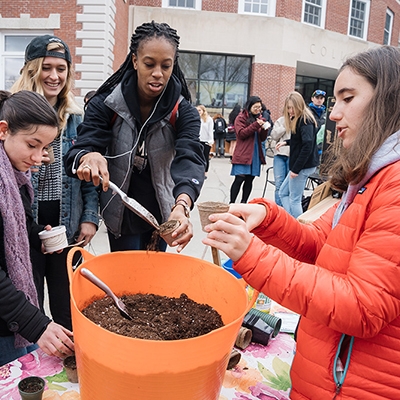 Future energy systems will need to be more sustainable and more affordable than their predecessors, and also more resilient to challenges posed by changing weather and climate patterns. And they'll need to achieve these specific improvements across broadly variant cultural contexts.
This summer, in partnership with The Arthur L. Irving Institute for Energy and Society, we are thrilled to offer a specialized immersive campus visit day for prospective students interested in energy systems and their cultural contexts. Join us on Friday, July 12th, 2019 for an Energy and Society Open House hosted by the Dartmouth College Office of Admissions.
In keeping with Dartmouth's small, close-knit community, attendance at this special program will be kept low to ensure each participant has a hands-on experience. Sign up early.
During this day spent exploring how issues of energy and society are studied across our curriculum, you will:
Hear from Dartmouth's scholars who teach: faculty who are leaders in their fields, experts in the news, and mentors in our classrooms.

Participate in breakout sessions that demonstrate how Dartmouth's liberal arts training helps students study complex energy systems and their development, application, and enhancement in particular cultural contexts.

Enjoy lunch at one of Dartmouth's main dining halls, the Class of 1953 Commons, and talk with faculty, staff, and students.

Round out your day with a campus tour and optional Q&A with our admissions and financial aid staff.
Tentative Schedule
8:00 – 9:00 a.m. Check-in
9:00 – 10:15 a.m.: Welcome Session with Amanda Graham, Academic Director of the Irving Institute for Energy and Society, and Lee Coffin, Vice Provost for Enrollment and Dean of Admissions and Financial Aid
10:30 a.m. – 12:15 p.m. Interactive Sessions around campus
12:30 p.m. Lunch in the Dining Hall
1:30 p.m. Campus Tour
2:45 p.m. Admissions and Financial Aid Q&A
As many of the day's events will take place all around campus, we encourage you to wear clothing and shoes that would be appropriate for a walking tour of campus.
Schedule Changes: Campus life is always evolving—events, content, and locations are subject to change.
As part of an environmental studies foreign study program, Jordan Swett '19 traveled to Bushbuckridge, a small community in northeastern South Africa. When he returned to Dartmouth, he began to study how high electricity costs are affecting citizens' daily lives in South Africa.
In 2018, Jess Chen '21 participated in Dartmouth's Energy Immersion Trip to Appalachia, where she learned about the environmental impacts of extracting coal. When she returned to Dartmouth, she began researching ways to mitigate acid mine drainage from legacy coal mines.