« All Posts by this Blogger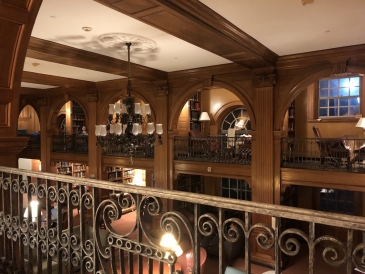 Returning to Sanborn Library
In what might be the result of the clichéd literary tilt of an English major, one of my favorite spots on Dartmouth's campus is Sanborn Library, storied home to our English Department. Sanborn is like a warm hug and a hot tea and a weighted blanket—it breathes serenity and comfort, with a touch of creepy old New England history. I once heard the poet Gabrielle Calvocoressi describe Sanborn as "something out of the game Clue," and I think that's just about as perfect of a description of Sanborn as you can get.
Until last week, it had been well over a year since I last stepped foot in Sanborn—even as Baker-Berry library began to open during the Covid year, Sanborn remained closed, and I always missed this literary haven. Now, taking two English classes and loaded with the likes of Faulkner, Chaucer, and McCarthy to read, Sanborn has returned as my home-away-from-home. I've already spent many a late night there this term, buried in a book or taking a quick evening nap in one of the deep leather chairs. I've begun to recognize all the nuances of Sanborn I didn't even know I missed—the warm orange glow of lamps and chandeliers, the hushed tones of whispering students, the rustle of pages and clacking of keyboards. In some ways, I feel like a first-year student again, this time re-discovering things that last held wonder for me in the Fall of 2018.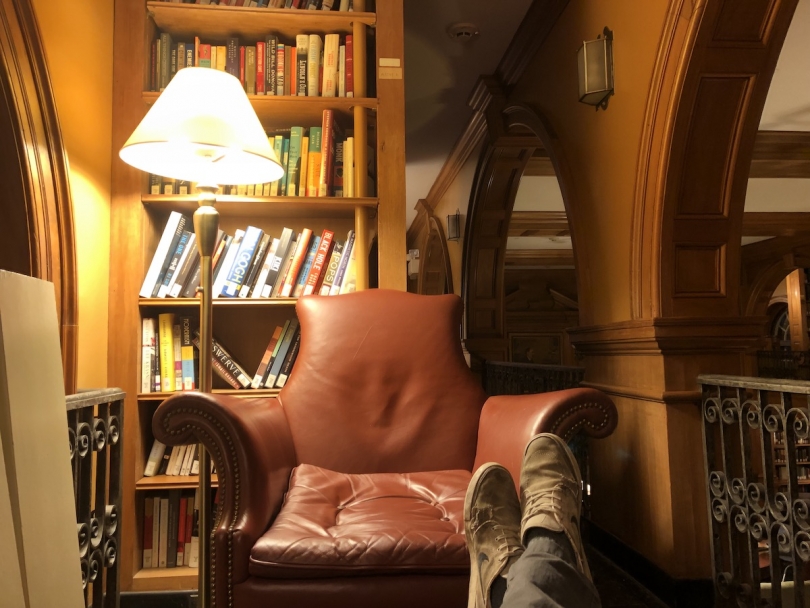 If I could isolate my single favorite location on Dartmouth's campus, I could get even more specific than just Sanborn. The library has a mezzanine level of tiny reading nooks nestled between bookshelves, and there's a nook in the southeast corner that I always claim if it's open. It sits next to a large curved window that peers out on Baker lawn, looking toward the Green and revealing students shuttling across campus under lamplights as the nights grow darker each day this Fall. Sitting here, in my favorite spot made inaccessible for over a year, I feel deeply in touch with myself, with my studies, and with Dartmouth—more so than I have in a long time.