« All Posts by this Blogger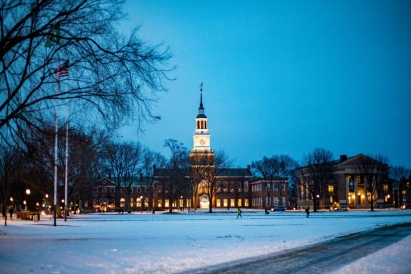 What to Wear for Winter Tours?
As pure white snowflakes fall, a layer of snow is formed and begins to hug the grounds of the College, thus commencing the arrival of the beautiful winter season. During this extraordinary time, Admissions will host winter term tours for prospective students and their families. 
For this blog post, I have created an extensive list of appropriate winter attire for the chilly winter tours. 
A winter hat:

In my experience, ones made with wool or cotton tend to keep you

very

warm. It is

essential

that you don't forget to wear a hat because Hanover temperatures sometimes reach the negatives and there is a possibility that your hair can freeze.

 

A scarf:

Any type of scarf will keep you warm from the icy-cold temperatures. Make sure to securely wrap your scarf around your neck to keep the heat intact. 

A winter coat and layers:

These are the

most important pieces of winter attire on this list. Before you put on your winter coat, it is imperative that you layer up. You should wear two pieces of clothing underneath your winter coat or jacket. Your first piece of clothing should function as your base layer (fabrics such as polyesters and wool work extremely well)

. Your next piece of clothing will serve as your middle layer (puffy jacket or fleece are great examples!). The purpose of this layer is to maintain as much body heat as possible. The final layer will function as your outer shell layer, this layer serves the role of your defense from the wind, snow, and/or rain.

Winter pants:

Make sure to wear pants that protect you from the cold and do not have big holes. Amazing examples of types of winter pants are jeans, leggings, corduroy pants, sweatpants, etc. You should layer up with another pair of winter pants to maintain as much body heat as

you tour Dartmouth's Winter Wonderland. 

Mittens/Gloves:

A pair of mittens or gloves will protect your hands and fingers from the chilly weather and will prevent frostbite. I recommend mittens made out of wool or cotton materials; they are

extremely

warm.

 

Fuzzy socks:

In my opinion, fuzzy socks are essential when walking through the snow. If you do not have fuzzy socks, you should layer up with multiple pairs of socks. Make sure that your socks protect you from the wet snow.
Hand and feet warmers: These are small disposable packets that produce heat when held or worn and aid your fingers and toes in subzero temperatures. A great company to get them from is called HotHands! You can get these on Amazon, Walmart, Target, etc!

Winter shoes: A pair of winter shoes are essential when traveling in the snowy landscape. Make sure that your shoes do not have any holes. Also, I recommend high-level shoes (8" inches) to ensure that snow and rain don't infiltrate your feet. Furthermore, winter shoes with traction will help greatly when navigating the icy landscape. There will be patches of ice on the sidewalks and by wearing winter shoes with traction, you will minimize the probability of slipping.
This concludes my list of appropriate winter attire for winter term tours. Great places to get winter attire: L.L Bean, Costco, Macy's, Patagonia, Thrift Stores, etc. 
P.S. Moreover, for students and families that cannot visit the College in person, there are virtual tours that are pre-recorded and provide vivid insight into campus life.
Have a wonderful virtual or in-person visit!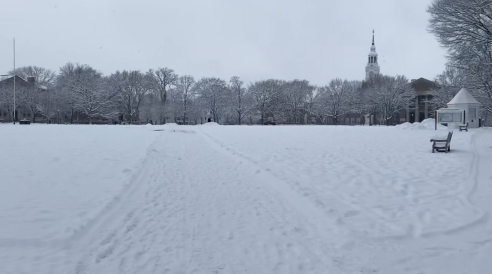 I am writing this blog post as I finish up Week 2 of my winter term!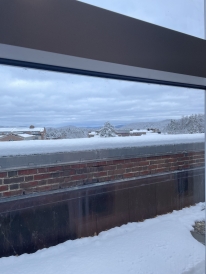 Curious about student jobs on campus? Here's my experience!

Brandon Mioduszewski
2025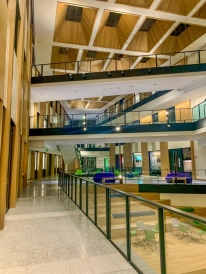 A new term comes with new study spots to explore. Let's take a look at some of my new favorite cozy study spaces that I've come to appreciate so far: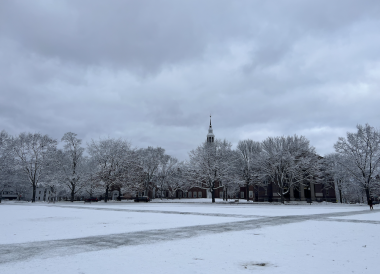 Congratulations to the newest members of the Class of 2027! Unlike our now '27s, I was still applying and interviewing for colleges this time last year. Here is how I managed my regular decision process!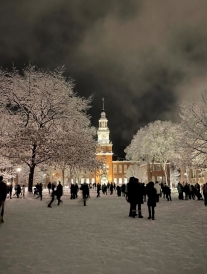 Dartmouth campus officially resembles a winter wonderland. Here are some of its defining characteristics.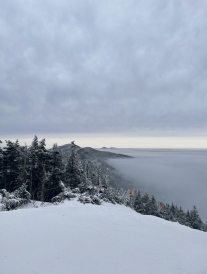 No matter your experience or budget, I'm sure you can make skiing a fun part of your winter Dartmouth experience if you would like. So how easy is it to ski at Dartmouth? I couldn't imagine it being easier!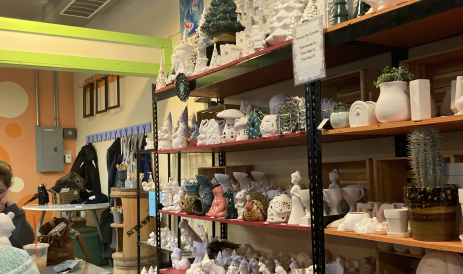 This weekend, I explored a local venue full of fun in White River Junction!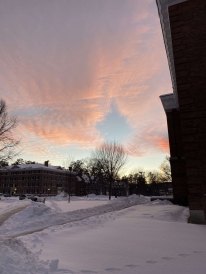 One of the many considerations for me when looking at colleges, was the availability of research—something which Dartmouth is great for! Read on to hear more!

Where I'm at on my pre-health journey and how I've taken advantage of what Dartmouth has to offer.