« All Posts by this Blogger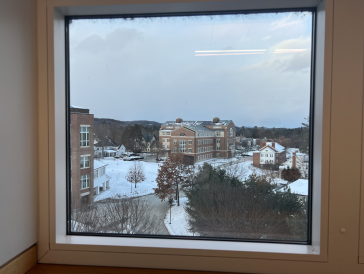 My Winter Term!
This Winter term I am taking four classes ranging from art history to the social sciences. I am excited about this term because of the chilly weather. In this blog post, I will be giving you a preview of every class that I am taking and my perspective on all of them.
To begin, for my FYS (First-Year Seminar), I am taking a course called Gender and Urban Transformation (9L slot). This class is very interesting because our discussions draw from primary sources and historical analyses that dabble on gender and its intersection with race, sexuality, and class in the development of U.S. suburbs and cities. Essentially, we are exploring urbanization and suburbanization as a multi-gendered process. I am very excited to learn more and continue to develop my research and writing skills. 
Secondly, I am taking Economics 3 (11 Slot), which happens during the 11 slot. I decided to enroll in this course because I wanted to polish my skills in math and better prepare myself for Economics 21. This class is a variation of Math 3, but has applied economics integrated into the curriculum. The professor is very nice, and I can't wait to learn so much more. 
At Dartmouth, you get to plan and develop your schedule. You can choose to take classes in the morning to late afternoon. Don't worry though, you will get support from your Undergraduate Dean, Major Advisors, older friends, etc. when picking classes and what times that they are offered. Personally, I chose to take classes that occur in the morning such as in the 9L slot, 11 slot, 12 slot, and 11A slot. When I was choosing classes, I wanted to finish at 12 to allow myself to be as productive as I can be throughout the term by giving myself enough time for my other commitments. 
Thirdly, I am taking Mexicanidad: Constructing and Dismantling Mexican National Identity (12 slot). This class is so fun, it is taught by Professor Coffey (she is so amazing!). I have been so excited to take this class for months because I want to deepen my knowledge and understanding of Mexican national identity. We analyze and discuss beautiful and imperative pieces of art before, during, and after the Mexican Revolution. I can't wait to keep on growing and learning more about rich Mexican history. 
Fourthly, I am taking Research Methods (11A slot), taught by Professor Rogers. This course is very amazing because I am learning about the many aspects that go into social research. This term, we will work with a non-profit organization to produce a research proposal. For class, I proposed a research paper that focuses on the impacts of the COVID-19 pandemic on accessibility towards higher education among first-generation, lower-income students in rural New Hampshire. I would love to partner with Breakthrough Manchester because they are a non-profit that aims to empower and inspire first-generation, lower-income students achieve higher education through extensive resources and outpouring community support. This project will place emphasis on the impacts of the COVID-19 pandemic and how one's perspectives, feelings, and opinions have changed due to the growing changes of our time.