« All Posts by this Blogger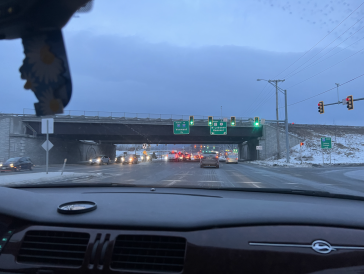 An Adventure to Panera Bread
I am writing this post after Week 4 of the winter term. This post is about the time Shelby and I went to Panera Bread. For context, I met Shelby during First-Year Trips; she was one of the leaders for our small cohort. First-Year Trips occur at the beginning of the fall term to help new students adjust to the social aspects of Dartmouth and connect with peers with similar interests. Our group focused on Community Service, which lasted three days. I wrote about this unforgettable experience at the beginning of my blogging career, from the fall term.
Anyways, I really really like Panera Bread, like it honestly is so good. However, the issue is that I don't have a car (Panera is 15 minutes away from the College by car). So, I went to Shelby and asked her to bring me along with her for her next Panera run. The reason why I know she goes on weekly Panera runs is because we talked about Panera Bread for days, while we were together for First-Year Trips.
At the end of Week 4, she and I then coordinated a time and it happened! By the way, Shelby is a senior and loves the world of education. We bonded over our experiences with education, as she served as a Breakthrough Teaching Fellow too.
The reason why I am talking about our journey to Panera Bread is because it is an example of the types of friendships that I have cultivated since I came here. Your Dartmouth experience is what you make of it. Take advantage of everything that you want to do. If you want to get lost in thought-provoking conversations with your friend Shelby, absolutely go for it!
Panera Bread was really good, but now all I remember from that adventure was the time that we spent together and the happy and authentic memories that Shelby and I created. What I am trying to say is don't be afraid to meet new people and make sure that you don't forget that people are here for you, always!