You are here
« All Posts by this Blogger
Yum! Best Eateries in Hanover
Hanover may be a small town, it is brimming with numerous restaurants, cafes, and eateries that serve a wide variety of dishes. Here are my favorites:
Hanover has one of the best gelato places in the nation. But don't just take my word for it! Forbes chose Hanover's very own Morano Gelato as America's best gelato! Honestly, there's nothing better than walking down Main Street after a meal, class, or meeting to reward yourself with a sweet treat. My favorite flavors are banana and sweet milk. Do you tend to be indecisive with food like I am? Don't worry, you can ask the staff to scoop up to three flavors in the same cup. Or of course, you can fill up the entire thing with your favorite flavor. 

Pine is one of the more expensive eating options in Hanover, but their dishes are definitely worth it. The ambiance is amazing, and their New England-inspired cuisine is mouth-watering. Pro tip: Dinner is probably way beyond the budget of most college students, but weekend brunch and weekday lunch options tend to be significantly more affordable --- they tend to be slightly more expensive than a typical off-campus lunch in Hanover. Another pro-tip: Want free Pine? AND want to get to know your profs better? Don't worry, Dartmouth has you covered. Take your professor to lunch at the Pine, and the College will foot up to $50 of the bill!

PS. Really, $50 is enough for a sumptuous lunch... and you can take one faculty out to breakfast/lunch EVERY term! 

No. 3

Lou's Bakery and Cafe

Lou's is a Dartmouth favorite for breakfast/brunch and coffee & pastries. Careful though, since it can get extremely crowded if you don't get there early! Some Dartmouth students choose to do the so-called "Lou's Challenge," where they stay up all night and then go get breakfast at the eatery as soon as it opens at 6 am. Rumours have it that by the time you drag yourself into that booth you're so tired that you can't even taste the food. Not the best way to enjoy your meal in my opinion, but definitely a Dartmouth experience worth remembering for the rest of your life.

Molly's is also a student favorite at Dartmouth. Their quintessential New England fare is spot-on for every palate, even for international students. I highly recommend their steak, as well as their Thai-style chicken. Their calamari appetizer is also delicious. Fun fact: the interior of Molly's is adorned with Dartmouth memorabilia. But they alsohaves banners throwing shade on our other Ivy-league rivals. So, if you happen to have a friend over from Princeton by any chance, you should totally take them to Molly's... after the first Men's hockey game with Princeton, which I'm sure the Big Green would have won in a landslide!

The Tuk Tuk Restaurant is the go-to Asian restaurant for most Dartmouth students. The restaurant serves a variety of delicious Thai dishes: pad thai, green curry, fried rice, you name it. Tuk Tuk also delivers to all Dartmouth residence halls, so if you are not too inclined to go out on a chilly winter day, you can order in with your friends! Tuk Tuk, as well as various Indian, Nepalese, Korean, Japanese, and Chinese restaurants,  add a distinctive flair to the dining options in Hanover and is a godsend for international students craving the tastes of home. 
"Hey! Do you want to grab dinner at Foco tonight?"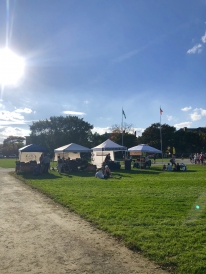 Students are basking in the sunshine, community members are walking their magnificent dogs, and families are playing the good old game of frisbee.

Melissa Barales-Lopez
2022
Springtime has arrived at Dartmouth and that means over the next ten weeks New Hampshire will get greener and greener. Spring term is an exciting time, especially because of the snow-free hiking opportunities.
Kirsten Gillibrand '88 is the first Dartmouth alumna to win election to Congress, and she has represented New York in the United States Senate since 2009.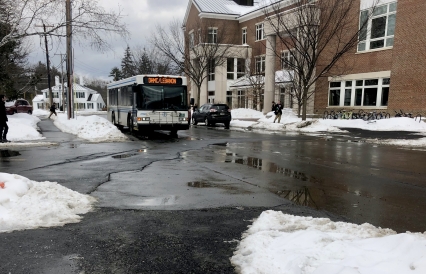 Whether it be for research at the Dartmouth Hitchcock Medical Center (DHMC) or if you just need to get out into Norwich or White River Junction to have some fun with friends, the AT has got your back.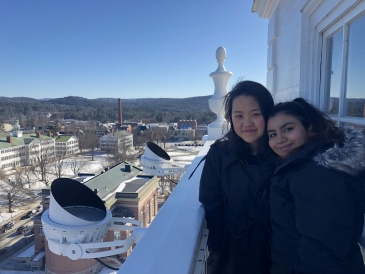 Every term, Dartmouth has one big, traditional weekend celebration. The big event of every winter term is Winter Carnival.

I was nervous about the writing requirements when I came to Dartmouth. In high school, I almost never deviated from the 5-paragraph essay structure.
The first time I ever stepped into a pair of skis was last Saturday, at the beginning of my first ski lesson at the Dartmouth Skiway.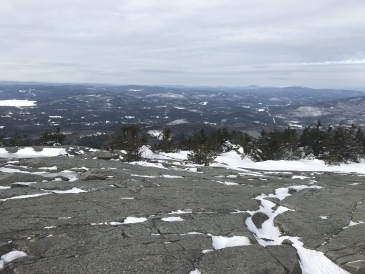 Coming to Dartmouth, my experience with the outdoors was very limited. I had only camped out once and went hiking for the first time on my First-Year Trip.