« All Posts by this Blogger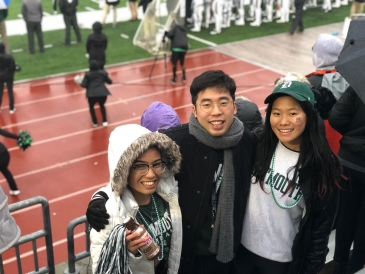 A (Literally) Sick Homecoming Weekend
Getting sick away from home is not ideal, especially when it's the middle of Homecoming weekend. Unfortunately, I caught a severe cold during the week, which threatened to put my Homecoming plans in jeopardy. On the plus side, though, I got to experience Dartmouth's medical services firsthand, and I did end up enjoying my school's legendary Homecoming celebrations. Dartmouth has a full-service, in-patient medical center available exclusively for its students. For students who may be concerned about getting sick in college while away from home, please be assured that Dartmouth has the medical resources to take great care of you (including a renowned research hospital right down the road). 
I woke up coughing and shivering in the middle of Tuesday night, three days before the beginning of homecoming celebrations on Friday. I was scared, as this was my first time being sick away from home without my parents to take care of me. But I found solace in the fact that Dartmouth had a nurse on call 24/7. I dialed the number that the College had given all students during orientation, and literally within seconds, I was put through to the nurse. After asking me a couple of questions regarding my symptoms, she invited me to come over to Dick House, our medical center. Within thirty minutes I was all checked-up and tucked into bed with heated covers. Throughout the night the nurses checked up on me and gave me water and medicine, and were even kind enough to offer me pajamas in case I didn't want to sweat in my clothes. They went above and beyond to make sure I was as comfortable as I could be, and even brought me breakfast in bed - never had that before! 
I spent two more nights at Dick's House, and by Friday night, I was confident enough in my health to jump in the Homecoming Celebrations with the rest of the campus! Believe me, our Homecoming Bonfire is not something you want to miss. With a police car and bagpiper leading the parade, my fellow '22s and I marched to the Green, collecting students from the many different freshman dorms spread across campus. The bonfire lit up the autumn night with fiery warmth, and with the other undergraduate classes, alumni, and faculty cheering us on, us '22s paraded around the fire. We were officially initiated into the Dartmouth community. Even though I was running a fever (as I later found out in horror once I returned to my dorm) and had been otherwise quite miserable during the rest of the week, it was undoubtedly the best night of the term. It was (literally) a sick Homecoming weekend!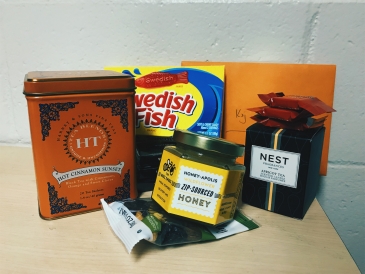 If you ever get homesick like this – or think you might once your college years begin – I've made a list of a few activities that help me reacclimate.
The HOP runs movies weekly, bringing in anything from big popular movies such as Crazy Rich Asians, to movies by acclaimed filmmakers such as Ulrike Ottinger.

While The College's normal dining options offer a wide variety of awesome meals, it's sometimes nice to dish out a few dollars of your own to get a taste of the incredible food in the area.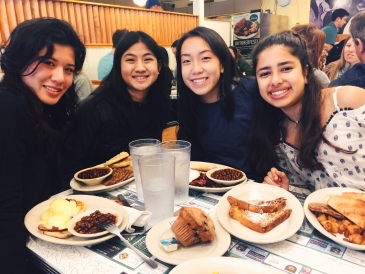 With two whole days of no school, we can sleep in, get extra work done, and hang out with friends, a task that can prove overwhelming during the week, given different class schedules and extracurriculars.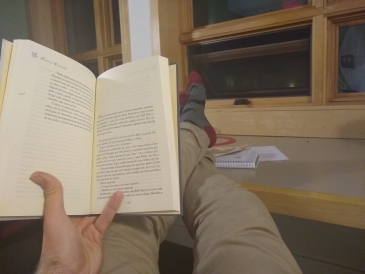 After attending an open house, I fell in love with Professor Deanne Harper and her topic of Choice, 'Pursuing Happiness.' And I could not have made a better choice.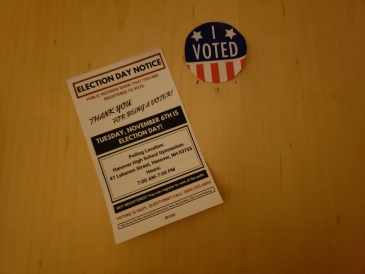 As an international student, it is so interesting to see Dartmouth students carpooling to Hanover High to cast their ballot, posting their absentee ballots at their home states, and canvassing across campus as part of College political organizations.

During First-Year Trips last year, all of us '21s received shirts inscribed with "Welcome Home" as our first piece of Dartmouth memorabilia; it never occured to me that Dartmouth would actually become my "home."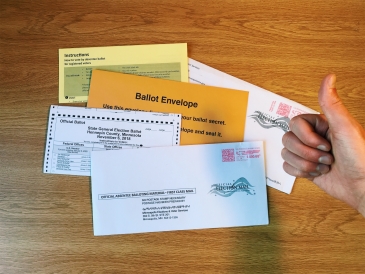 When I began planning for my life in Hanover, the issue of voting dawned on me. Which state would I vote for, how would I get registered, and where would I go for help?
At Dartmouth, I aim to spice up my academic and co-curricular activities with spontaneous excursions that coincide with the seasons. Here are my favorite autumnal adventures from senior year thus far.