« All Posts by this Blogger
The Best Places to Study (or Hang Out!) on Campus
Dartmouth has so many libraries (so many that I can't count) on campus, and the Rauner Special Collections Library is by far my favourite place to study.
Dartmouth has so many libraries (so many that I can't count) on campus, and the Rauner Special Collections Library is by far my favourite place to study. With its airy, bright ambience and couches that are perfect for studying---or snuggling, in a blanket---the Rauner Library always reminds me how lucky I am to be a student at Dartmouth. The library has more than 100,000 rare books, millions of manuscripts, and the extensive Dartmouth College Archives stored in its specially designed chamber that forms the centerpiece of the library. Even as an undergraduate, you immediately gain access to all of these documents. So if you're the type of person who dreams of sifting through our very own alum Dr Seuss' original sketches or reading Shakespeare's plays from their original copies, maybe Rauner is your place! 

Rauner Library closes early, so when I need to catch up on some work in the evenings, I head over to the Sanborn Library for English Literature. Along with the Tower Room in Baker-Berry Library, it is the most Hogwarts-esque room in Dartmouth. With warm brown walls and calm lights, it is the best place to snuggle up on an armchair and get some readings done. Students studying in Sanborn are even pampered every day with traditional English tea and biscuits, courtesy of the English department.

Pshhh… inside tip: One Wheelock on the basement of the Collis Student Center has a free coffee machine and a cafe-like atmosphere that is perfect for studying if you like ambient noise. It's almost never crowded, so if you need to focus, it's worth checking out.

Fall in Hanover is gorgeous, and students often bring their work outside to the Green. Feel free to grab coffee and pastries from King Arthur Flour on the way there, snuggle up in a light blanket, and do your work among the beautiful autumn foliage and warm sunlight. The mountains of New Hampshire, in their splashes of brown, yellow, and red, will be the perfect backdrop.

Okay, your common room is not really the best place to focus, but it's definitely one of the best places to catch up with friends. College life is really busy, and even on a small campus, you may go through your day without seeing some of your closest friends and floormates. I love it when my floormates gather in the common room sometime after 10 pm, excited to hear more about each other's days and collaborate on assignments. Your floor is your family away from home.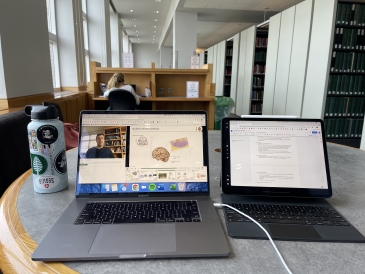 When I was applying to colleges, I absolutely loved watching 'A Day in the Life'-style vlogs. I wanted to share what a typical Monday at Dartmouth is for me to show there is truly never a dull moment here in Hanover, New Hampshire!

We're just past the halfway point for spring term! For this blog post, I wanted to write about my classes because 1) I'm absolutely loving them and 2) I think they are reflective of some standout strengths of the Dartmouth curriculum.

"Undergraduate focus!" "Undergraduate focus!" "Undergraduate focus!" But what does that mean? It means the professors and faculty are extremely approachable and help you in your educational journey any way they can!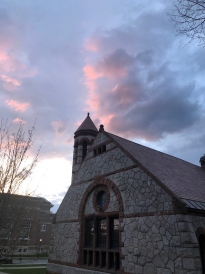 Considering that we're almost halfway through the term, I thought I'd do a little what I do in a day, especially since I wasn't on campus last term.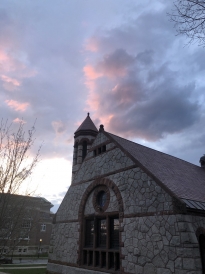 "Big Data Science in Hydrology" pulls content from computer science, environmental statistics, and hydrology—the study of the movement of Earth's water—to form a really interesting interdisciplinary class.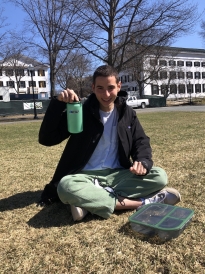 Spring has sprung in Hanover and the term feels like it's really getting off the ground with classes starting up in full swing, warmer weather, and the occasional muddy day.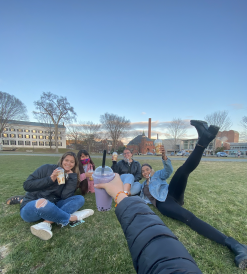 Wondering what a two-course term at Dartmouth is like? Well, here's the scoop!

Thinking back, this winter has been a whirlwind. I wanted to use this final blog post as an opportunity to organize my thoughts and share some reflections as I move into my final term!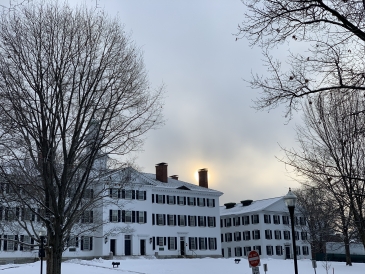 This one's for you intrepid, amazing prospective students!