« All Posts by this Blogger
And That's a Wrap! An Honest Recap of 18F
What can I say, my first term at Dartmouth has been quite a ride, and I can't believe it's already all over! I remember writing my first blog post the morning of my first day of classes, and it is hard to imagine the nervous new freshman that I was just eleven weeks ago.
My best memory of my first term definitely has to be the First-Year Trips. Trips do an amazing job of introducing city-peeps like myself to the beautiful outdoors of New England, and the friendships and memories that are forged over the five days in the woods are one of a kind. I remember crying as the trips crew made up of upperclassmen volunteers sang us a song of their own creation, welcoming us to Dartmouth: "Dartmouth is lucky to have you," they sang, "We were never strangers, it was meant to be//what we have is destiny."
Transitioning into Dartmouth wasn't easy, however. I won't lie, some moments in Fall term were definitely hard; the social and academic pressures on freshmen are pretty intense. There were many days I stayed up until late into the night trying to finish cramming for an exam or writing an essay. (Note: Procrastination is the college student's worst enemy! Overwork is not always the classes' fault---if I had followed these good study tips, the workload at Dartmouth would have been much more manageable!) There were also moments when I felt so out of place in a new social environment, especially since the social scene here was somewhat different from what I was used to back in Tokyo. "The freshman blues," as we call it, is a real thing.
But every time things got rough, I always had people there for me. I can't emphasize enough how the people at Dartmouth are hands-down amazing. Every time I felt like Dartmouth wasn't for me, I knew I could always find someone to talk to about my feelings and restore my confidence. Every time I missed my old friends and the life I'd left behind, I knew I had an amazing community I could rely on as well---a shout-out to all of my floormates, who have literally become my family on campus. Friendships at Dartmouth go beyond nationalities or backgrounds, interests or fears, classes or clubs. It is a camaraderie of every type of people you can ever imagine---varsity athletes, tech geeks, social workers, politicians-in-the-making, and everyone in between--bound together by a shared passion for knowledge and personal growth. Not to mention, of course, the desire to have a great time together!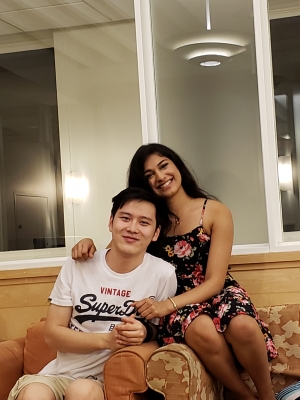 My close friends hail from every corner of the world, from Alaska to Venezuela, from the UK to New Zealand. Leaving them for the six weeks of winter break will be hard; I already miss them so much, and it's only been two days in at the time of this writing! If the past twelve weeks have taught me one thing, it is that Dartmouth is blessed with amazing people.
For me, that is what makes this place so special.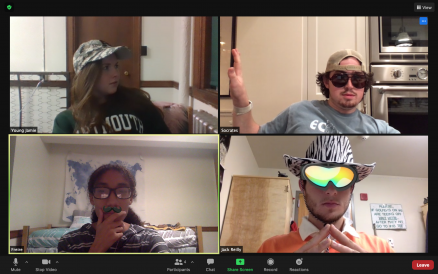 Holden Caulfield, Socrates, Paulo Freire, and Young Jamie got together via Zoom and put together a play for my writing course.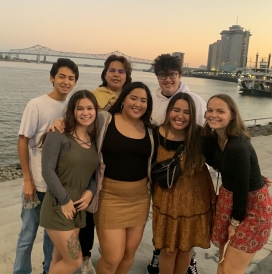 But at the end of the day, when people ask me what my favorite Dartmouth memories are, I'm always thinking about the place. Ice skating, pink sunsets, riverbanks, or canoeing? That's my highlight reel.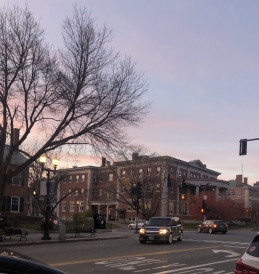 The last week of October was especially ~spooky~ as I was able to find more time than usual to enjoy my weekend with friends and the small-town-charm of Hanover.

While the student body at the College may be relatively small, students here recognize that their vote can hold a lot of weight in New Hampshire, a classic swing state.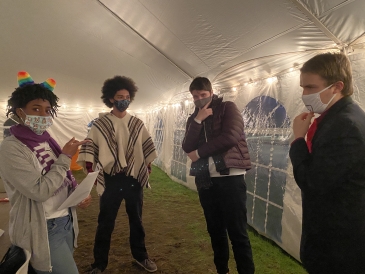 After walking around campus all day in eye-catching attire, we headed to a Murder Mystery night hosted by Phi Tau (a fraternity) in one of the tents scattered around campus.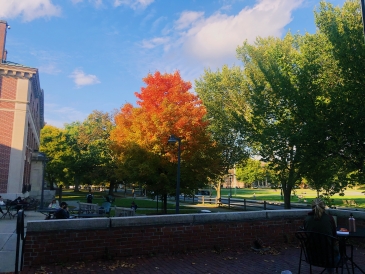 My personal visit to Dartmouth was a huge factor in my decision to apply, so in honor of Week 7, I hope this blog post can virtually illustrate some of what Dartmouth has to offer in seven images – worth 7,000 words!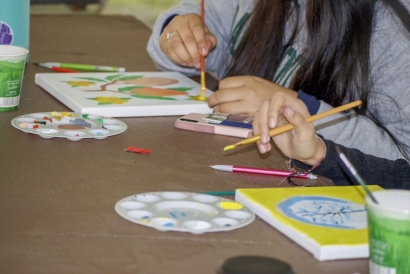 Each incoming student was assigned to one of the six houses: School House, South House, East Wheelock House, North Park House, Allen House, or the best house (West House).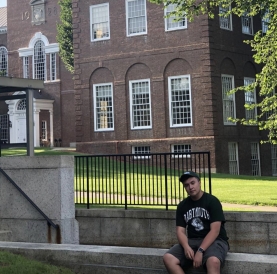 Over the past year, I've talked a lot with prospective students. Picking college is a big deal, but if I knew what I do now, I'd still pick Dartmouth a dozen times over. 

Each day has looked a little bit different, but here is a glance into my life at Dartmouth this fall!