« All Posts by this Blogger
Study Mania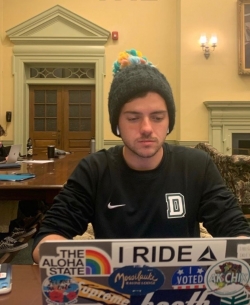 In honor of finals a few weeks ago, I wanted to share with you some of my favorite study spots on campus! These are just my favorites, and most of them tend to be a little more open and loud, but there are tons of different places to get some reading or work done in Hanover.
My number one study spot has got to be Blobby. Blobby is a made-up Dartmouth word for the lobby of our Baker library, which encompasses the front sitting room and some tables just as you enter the main entrance. Blobby is bright, has tons of windows, and is always really busy with students walking from class to class using it as a shortcut. It also houses King Arthur Flour (KAF), a local cafe, which provides students with all the necessary caffeine required for some great studying. Overall, you could find me in Blobby working on a group project, doing some reading, or just talking to friends. 

Hilariously enough, the 1902 Room is located right next to Blobby, but has an entirely different feel. The room is very big and open with long tables and is usually completely silent, under the watchful eye of paintings of famous College presidents and deans. I like that 1902 is so much quieter than Blobby for when I need to read or when get down to work and focus. It also has one of the closest printers in the library, so if I need to print and proofread anything, 1902 is the place I will be.  

No. 3

4th Floor Fairchild

No list would be complete without one of the best views on campus: the 4th floor of the Fairchild Physical Sciences Complex. The building stands out among the beautiful brick as a tall, looming glass and concrete mammoth, but once you're inside, it feels cozy and open to the outside world. It houses, among other things, the Environmental Studies department, so I spend a lot of time there before and after my ENVS classes. The best place to study is on the 4th floor because on one side you have ceiling-to-floor views of Baker Tower through huge windows, and on the other side you get to gaze into the BEMA, which is one of the small forests on campus that students can hang out in. Find me here avoiding my work by looking off into the woods, or working on something ENVS related.