« All Posts by this Blogger
I was in a Musical?!?
Despite the large breadth of all of the possible activities that I could participate in at Dartmouth, I never pictured that being in a musical would be one of them, let alone one of my favorite experiences. My first trip back into the world of musical theater since 8th grade, I was a cast member in the Dartmouth production of Hair, a senior thesis presentation by one of my friends, Virginia, which was essentially an experiment at looking at how a controversial musical about racial, sexual, and gender identities play out during the Vietnam War. Our adaptation was set in modern day, and not only helped me discover a lot of things about myself and provided some really meaningful reflection but also provided some really powerful relationships and takeaways.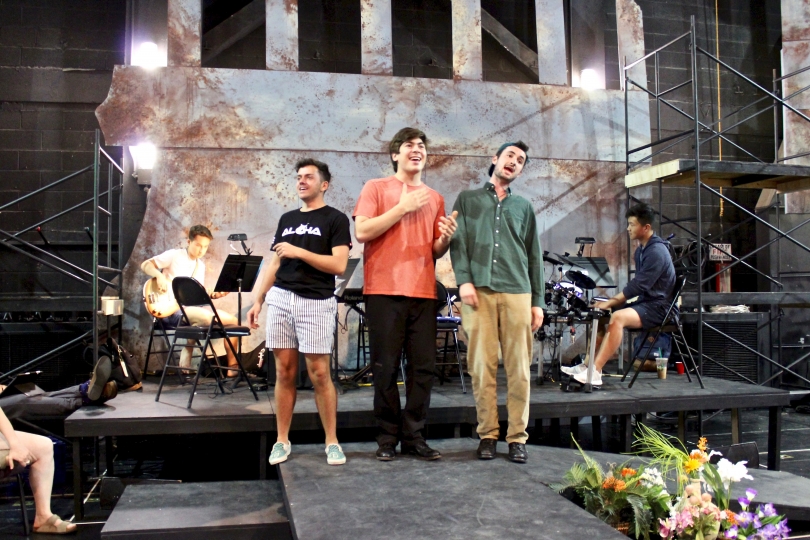 I knew my friend Virginia was putting on Hair as Senior Thesis project (just one option for seniors studying theater to show what they've learned), but I had no intention of auditioning when I first became aware of it. I love all of my friends who do theater, but they are dedicated to it for a reason. In addition to being a huge time commitment, as I would discover, it is also emotionally and, at times, physically exhausting. To my surprise, my spring term ended up being a little bit more open than I had anticipated, with a few of my activities more manageable than they had been, so when I was sitting in the lobby of Baker-Berry and I received the "LAST CALL FOR AUDITIONS" email for Hair, I knew I had to try something new and at least sign up to audition.
Going into auditions, I was petrified. I only recognized a couple of people, and I felt outclassed in the singing, dancing, and acting portion of the audition. I earned a callback and went into the callbacks probably even more nervous about something I had not even expected to get, but excited at the same time about the possibility of joining this amazing group of people to put on what was going to be a fantastic show. That night, I received an email that I had been awarded a role and immediately gushed to my roommate for several hours about how excited I was.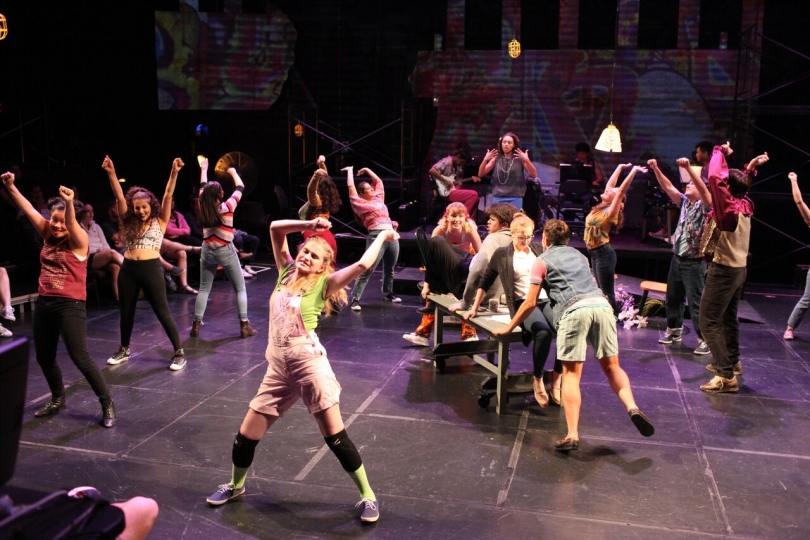 Rehearsals did take a lot of time, and I was often pushed out of my comfort zone, but Hair helped me grow as a person more than I could have ever expected. Virginia made the show personal for us, she gave us time to reflect, to discover the nuance of our characters, and to find the emotion that is critical to making a show like Hair brilliant. I won't give away all of her secrets, but one of the most powerful rehearsals I can remember we just sat in a circle on the stage in the dim lighting of the final scene and talked about what this show meant to us, and what it meant to our characters. I could have never expected that this opportunity and experience that I had no intention of being a part of could be so influential. In the future, I would love to participate more with the department of theater and will definitely try responding to more 'last call' emails in the future.