« All Posts by this Blogger
"I'm late, I'm late," I confessed to my dinner dates
Time management, never my strong suit, is perhaps my principal obstacle at Dartmouth. There are so many people to meet, activities to do, and adventures to be had—not to mention books to read and papers to write! This perennial struggle led last night to one of those moments where I appreciate just how great my friends are here. I was working in FoCo, the main dining hall, thinking I had to work through dinner, when two of my friends waved me over to their table.
Soon enough they discovered just how much work I had to do—and how much I had already worked that day.
"Sarah," they said, "you need to work smart."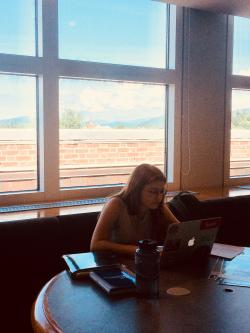 And they showed me how. What followed was a thirty-minute tutorial on study playlists, study music, study schedules—a crash course in how to maximize productivity and minimize time spent nodding off in the grass. (Apparently the lawn behind the library, however pretty it may be, is not the best place to read two hundred pages.) After we were done, my friend, Jack, stood.
"Come on," he said, "I'll walk you to the library." I was slightly bewildered. Grateful for the advice but also slightly overwhelmed, I had been contemplating going to Collis, the student center, and working in the coffee-shop-style area where I normally went after dinner. How had he known that, without accountability, I would struggle to follow his advice?
But I did. We walked together to a quiet part of the library, to study carrels with a great view of the nearby green hills. He asked if I had a good study playlist. From time to time throughout the next few hours, he checked in to make sure I was working productively. Once it darkened outside, he reached over and flipped on the built-in carrel light.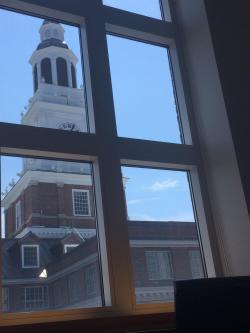 Throughout the next three and a half hours, I wrote and edited fifteen hundred words and read thirty more. Earlier that afternoon, it had taken me three and a half hours to read forty pages alone. Today, after lunch, old habits died hard: I was about to work in the student center again, either in the porch or one of the interior tables, when I stopped myself.
"Remember what Jack and Maeve said," I reminded myself. I walked across campus and up to the library third floor. Now I'm typing away, listening to "folk-inspired classical music," without a care in the world—or at least, much better prepared to address those cares than I was yesterday.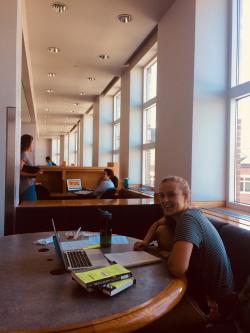 One benefit to going to school with such talented, motivated, hard-working students is that, in addition to more formal options, tried-and-true advice is available right at the dinner table, delivered by people who know and care for you.