« All Posts by this Blogger
Like history? Don't like history? Read about this class.
This summer I took one of my favorite classes to date: a history seminar called Race, Ethnicity, and Immigration in US History. While some of the history we covered was familiar, we tackled them with far more nuance, and analysis than had my high school classes. Readings, discussions, and a 15-to-25-page research paper challenged our reading, speaking, writing, and, of course, speaking skills alike--and in a class of ten people, there was nowhere to hide.
I learned so much. I loved it. Why?
First, the professor, Annelise Orleck, is a star. An expert on twentieth-century American history, she focuses on gender, organization, and radicalism and just published her fifth book. While we immediately recognized her for her teaching ability, we didn't realize her recognition in her field until we were assigned a Triangle Shirtwaist Factory fire documentary. Watching the film, halfway through cooking spaghetti, my classmate Nicole nearly dropped her pasta pot. There, star interviewee, was our professor! Our class group chat immediately exploded with the news. Professor Orleck was so modest, genuine, and down-to-earth in class every week that we hadn't realized her stardom. But there she was, a primary speaker on a PBS American Experience documentary! (
She's great not only for her knowledge, concisely and engagingly explained, but for her a) high expectations and b) enthusiasm to help her students to excel. My friend Maeve, who took Orleck's "Women and American Radicalism Left and Right" this past winter, said she loved the class "because it gave me the opportunity to dive into the research and writing process and create a paper of which I am really proud."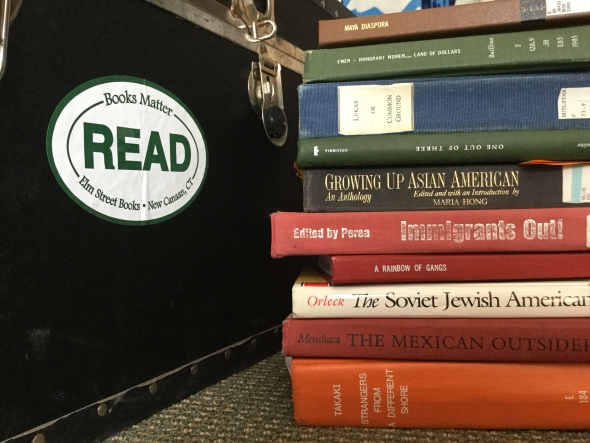 I concur. My research paper spurred me to complete a project I had wanted to tackle for two years. While I had first pursued the idea--an account of my great-grandmother and grandmother's immigration experience--in high school, I could never put pen to paper. Professor Orleck's counsel and encouragement was essential to my finishing the essay--and, for that matter, the class. To be honest, the paper scared me. I tried to drop the class, but Professor Orleck wouldn't let me. She said, cheesy as it sounds, that I could do it. Forty-five pages later, I did--and am so glad she pushed me.
The last week of term, Professor Orleck invited us to dinner, conversation, and paper presentations at her home. Leaning back in my chair, sipping my tea (with mint fresh from her garden), I was overwhelmed with just how great were this class and my classmates. You can bet I'm taking another class with Orleck this spring.