You are here
« All Posts by this Blogger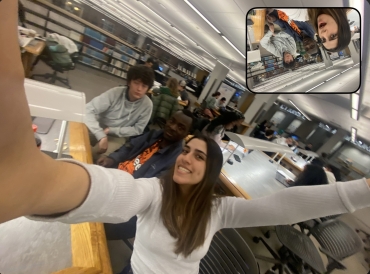 The Magic of FFB
One of my favorite places to study is the first floor of Berry Library, a central place on campus that is close to everything (dining halls, classroom buildings, and student housing!). It is commonly known as FFB (First Floor Berry) among Dartmouth students.
Berry Library is known for being a building that gets quieter as floors go up. The first floor (FFB) is known to be the noisiest space, and it is usually where students meet up with classmates to do group projects or just to study with friends.
Personally, I love FFB because I find noise essential to get work done. I am not one of those people who needs to sit in complete silence to be able to concentrate. Rather, I need to be in a talkative environment because it prevents me from falling asleep! I have committed the mistake of drowsing off multiple times when I have tried to study on the upper floors, but FFB keeps me awake and active.
FFB's layout is perfect for every occasion: near the right end, there are a lot of computer desks separated by table dividers. This is where I usually am the days before exams because it is a great space to feel alone and unbothered when you need to grind. While I still get the dynamic and energetic environment, I can be undisturbed in my own headspace. Also, this is the place I go to when I don't have my laptop in hand because anyone can use the computers on FFB!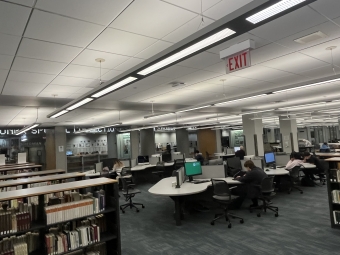 In the middle of FFB, there are many long tables. This is usually where students work on group projects and meet up with friends. I always use this space for review sessions with my classmates, and it is a great place to not feel bad about being noisy because everyone around you will be the same! There are also a lot of small private rooms in this area. This can be reserved through the Dartmouth Library website, and they are useful for when you want a space of your own, for example, to take an online exam or attend a zoom meeting. They are also useful if you want a space for you and your friends away from the crowd.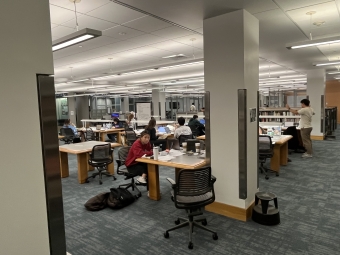 Finally, the left end of FFB is what I call the "comfy end." While it does have some tables, it is mostly composed of super soft couches! After a long day, I hate sitting at a desk and thus this is where you can most likely find me late at night. There are a lot of personal couches and foot rests! I love getting readings or creative writing tasks done here because it is such a comfortable place to be in.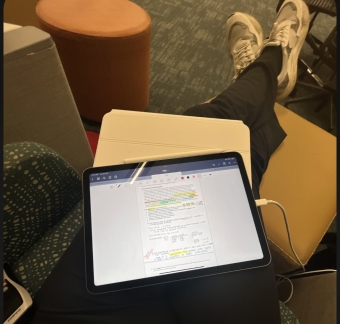 FFB is a great place to study in. However, there are so many other places all around campus! While I have found a home in FFB, don't be afraid to explore and try different study spaces to find yours too!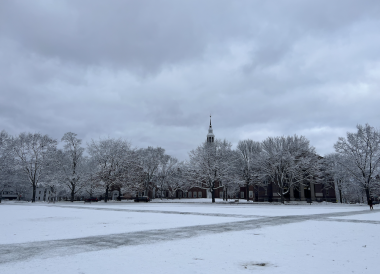 Congratulations to the newest members of the Class of 2027! Unlike our now '27s, I was still applying and interviewing for colleges this time last year. Here is how I managed my regular decision process!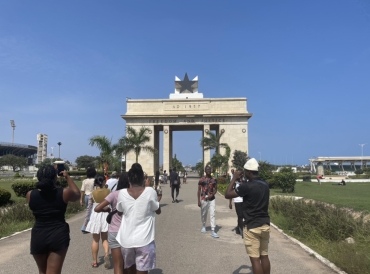 My study abroad last fall was honestly one of my most formative academic and personal experiences since I started at Dartmouth.

Before coming to college, I was afraid of not finding an academic mentor during my undergraduate studies. However, I have found that Dartmouth's community of professors to be absolutely astonishing and I could not be more grateful.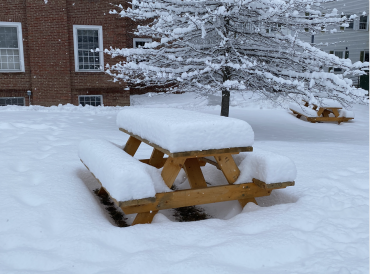 I am writing this blog post as I finish up my first week of the winter term.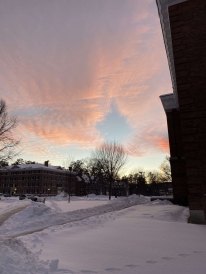 One of the many considerations for me when looking at colleges, was the availability of research—something which Dartmouth is great for! Read on to hear more!

Where I'm at on my pre-health journey and how I've taken advantage of what Dartmouth has to offer.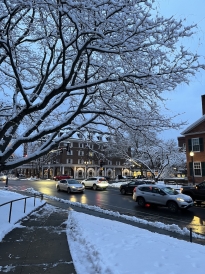 My internship at the Thayer School of Engineering!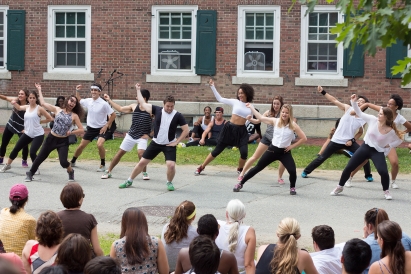 Curious about what it's like to run a club at Dartmouth? In this post, I write about my experience as the coordinator for Arabic Club.

Brandon Mioduszewski
2025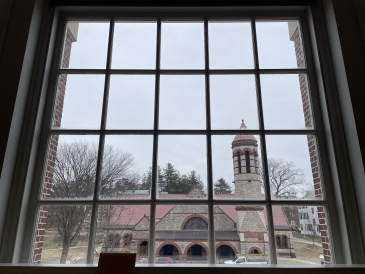 ¡Hola blog! Mi nombre es Paulina y soy de Nicaragua. Al estar embarcado en mi segundo año, he estado reflexionando acerca de todas las razones por la cual yo decidí aplicar y asistir a Dartmouth.