« All Posts by this Blogger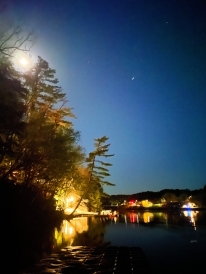 Surviving a heat wave in the Upper Valley
If you ask a Dartmouth student what influenced their decision to come to school in rural New Hampshire, most of them will include "real seasons" in their list of rationale. While it's true that changing colors of fall feel pretty spectacular, "real seasons" feel like less of a plus when the weather changes from the high 40s to the low 90s in less than a week. Spring here is pretty inconsistent weather-wise, so you have to learn how to survive some crazy heat waves.
Famously, I do not do well in the heat, so here are my tips for surviving an Upper Valley heatwave.
1. Go swimming! The river is a 10-minute walk from the center of campus, and a dip in the ice-cold water is enough to make you forget you were even sweating.
2. Take a soft-serve ice cream to go from the dining hall. FoCo (our dining hall) comes with unlimited frozen yogurt, and a mountain piled high on a sugar cone is a perfect treat for a hot day.
3. Study in the stacks, kept at cool temperatures to preserve the books inside. Honestly, this is controversial advice because I can find the AC in the stacks overpowering — sometimes I wish I had brought a sweater!!!! However, I know I am alone in this opinion, so I continue to include it in my list of advice.
4. Dress the part. Whether your style is linen pants, sundresses, flowy shorts, or a tank top, it's essential that you consider the hot and humid weather when picking out your fits in the morning. Jeans can turn a pleasantly warm day into a sweat-fest.
No matter how hot it gets, I guarantee Dartmouth is the best and most fun place on earth to be overheated.