« All Posts by this Blogger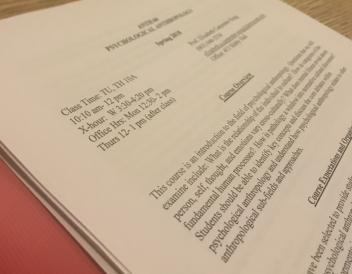 What in the world is Psych Anthro??
After not getting into one of the classes I wanted to be in, I entered spring term with two classes instead of three. Despite the seemingly endless options that are available, I had no idea what I wanted to take. Before coming here, I promised myself that I would explore new fields, but where exactly should I start? A little bit of asking around helped me decide that I would look into the Anthropology department. During my first year seminar I ended up creating an ethnography, "a scientific description of the customs of individual peoples and cultures." Apparently ethnographic research is the bread and butter of Anthropology, and because I liked my first experience so much, I thought I might as well try out a class.
Although I was going to be adventurous and try a new subject, I wasn't sure I wanted to go beyond a beginner level. The three intro courses in the Anthropology department are: ANTH 1 "Introduction to Anthropology," ANTH 3 "Introduction to Cultural Anthropology," and ANTH 6 "Introduction to Biological Anthropology." ANTH 3 was the only one offered this term, so my choice seemed pretty straightforward. But when I tried to add the Cultural Anthropology course to my schedule I found out that it was full. I emailed the professor and to my dismay she informed me that there was an over thirty person waitlist for just two spots.
I was close to giving up on the Anthropology department for the spring term, but I decided to look through all of their course offerings before moving on. A class titled "Psychological Anthropology" caught my eye, and one of my teammates said they were taking the class. The class had not been offered since 2015, so it was hard to find that much about it from current students. Despite the mystique surrounding the class, I decided I would give it a shot.
The main questions we are exploring in Psychological Anthropology are, "What is the relationship of the individual to culture? How do categories of the person, self, thought, and emotions vary cross-culturally? What do extraordinary psychological experiences reveal about fundamental human processes?" During the first day of class the professor introduced us to the field of Psychological Anthropology, and established it as a very specific discipline. According to Professor Carpenter-Song, Psychological Anthropology can seem like somewhat of an oxymoron. Usually anthropologists study cultural practices, and use those practices to help understand the patterns of a group. Incorporating psychology adds an emphasis on the individual that is often left out in general anthropologic work. Many students in the class have taken other classes in cultural anthropology, so Psychological Anthropology stretches the methods they used to study culture in a brand new direction.
Like most classes here, Psychological Anthropology is a very reading-heavy course, but if you are interested in how individuals respond to cultural practices, this class is right up your alley.