« All Posts by this Blogger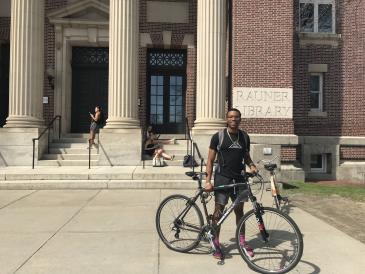 Bike Life
Now that spring has finally sprung and the roads are nice and clear, bicyclists are out in full force all across campus. During the fall term I didn't use a bike to get around campus, but then my godmother offered me a bike that her family wasn't using, and I happily accepted my sweet new ride.
Transporting my bike to Dartmouth was a hassle. Apparently you can't just wheel your bike into an airport and check it onto an airplane. I had to disassemble it and then jam it into a bike box in order to pass it through TSA. I arrived on campus this term with a completely disassembled bike, and no tools to put it back together. Luckily Dartmouth Bikes, an on campus bike sustainability program, came to my rescue. They were able to assemble my bike in a little over an hour and sent me on my way with no problems.
Dartmouth Bikes also provides repairs and servicing at very affordable prices. One of the coolest parts of their initiative is their mission to eliminate bicycle waste. Often times bikes are abandoned on campus or simply thrown away. Dartmouth Bikes accepts donations and collects abandoned bikes around campus and gives them new life. Once these bikes are back in shape they either sell them or rent them to students.
DartBike Rentals is another student-run program that provides term by term rentals. Additionally, there are multiple Zagster Bike Share bikes around campus if you want to go on a quick ride and not make a full term rental commitment.
Bicycle storage is an issue that many people don't factor in when purchasing a bike. In order to store your bike you must have it registered at the campus Safety and Security office. This registration is free of charge and also will provide a way to track your bike if its lost or stolen.
A bike is nowhere near a requirement for Dartmouth students. My furthest class is located in the Class of 1978 Life Sciences Center (a.k.a. the LSC). The LSC is on the edge of campus and I could get there within 20 minutes from the opposite end of campus. I choose to bike around campus because it makes my commutes quicker, although I find myself skipping the ride and walking and talking with friends when I have the time. If Dartmouth were a larger college or in a busy city, I sadly wouldn't be able to make that choice.