« All Posts by this Blogger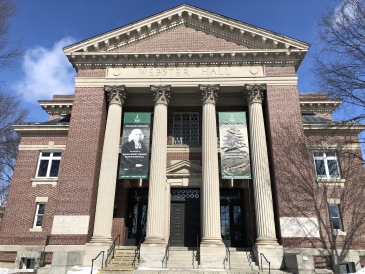 Special Connections and Endless Collections
Research projects can be intimidating for many college students. With demand for an extensive amount of academic sources, research presents various high hurdles and challenges. Facing these same obstacles, I turned to Dartmouth's very own Rauner Library to advance my examination of rituals at the College for my religion writing seminar. 
Never having individually explored Rauner before, I was unsure of how to obtain relevant sources for my project. I didn't have the slightest clue of how to navigate the several databases Rauner boasted and felt extremely unnerved when I initially walked into the building. My assignment required me to analyze rituals of Dartmouth's past but, with the lack of knowledge I possessed of the school's library services, the task seemed almost impossible. 
Upon entering the library, however, I directed my attention to the front and center information desk (always a good idea when you're unsure of how to proceed with research). The two individuals seated there were incredibly helpful and extremely resourceful. The Rauner librarians presented me with a comprehensive rundown of all the directories I could tap into. They undoubtedly guided my project in the right direction. 
The recommended sources included a vast collection of photographs, countless The Dartmouth and Aegis (the school's yearbook) issues through the ages, and a bounty of vertical files which contained authentic and legitimate documents of the College's past. (Rauner Library is most known for its possession and preservation of significant and historical archives.) These sources document the long history of Dartmouth and were therefore integral to my paper. The amount of material and collections were truly endless!
During my time at Rauner, I also requested access to tangible artifacts of the early days of the College. (This opportunity is available to all members of the Dartmouth community!) I was able to touch a "Dartmouth beanie" (a cap first-year students used to wear) with my bare hands. I literally came into contact with Dartmouth's history. How cool is that! Not to mention that I sifted through an infinite amount of priceless editions of our school's newspapers and other publications. 
My experience at Rauner Library was an incredibly wonderful experience. I learned that librarians are truly there to help students and that Rauner houses a variety of collections about Dartmouth and beyond. My visit to Rauner was incredibly helpful for my research project and I definitely plan to visit in the future!