« All Posts by this Blogger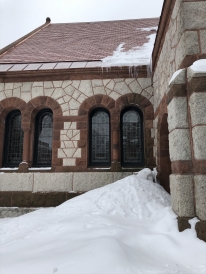 Rethinking Rollins Chapel
Space is important in Dartmouth College and several buildings receive special attention from the community. Dartmouth Hall, Baker Library, and the beloved Green are all notably significant locations in the history of the College. However, Rollins Chapel, the first-established religious chapel at Dartmouth, has been the leading space on my mind as of late.
The professor of my seminar, Is Dartmouth a Religion?, has tasked my classmates with the arduous task of redesigning Rollins Chapel - hypothetically. Despite this not-so-real assignment, critically examining this sacred space on campus has been nothing short of wonderful. Yet, such an analysis will be better saved for my research paper. Instead, I want to illustrate my experience in this religious establishment and spotlight some of its positives.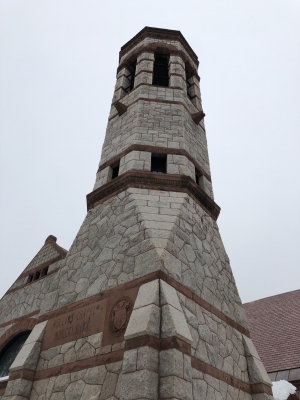 Most notably, Rollins Chapel is a non-denominational religious space that welcomes Dartmouth community members of different religions. The chapel was originally a place of Protestant worship but as the school expanded, so did the chapel. Accordingly, Rollins came to house different denominations - Catholicism and Judaism - and now even has its very own Hindu temple! 
As a visitor, the external architecture of the chapel is visually captivating. Its Richardson Romanesque-inspired style is notably distinct from the buildings surrounding it (i.e. the white grandeur of Dartmouth Row and the brick magnificence of Baker-Berry Library). It's evident to the typical Dartmouth student, including me, that this space is unique.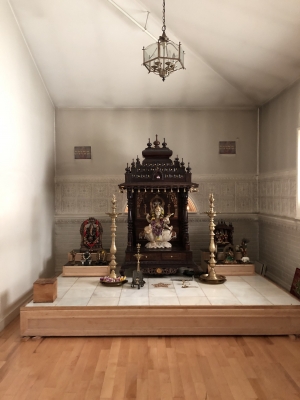 Upon entering, the open layout of the inside of the chapel indicates unity within the different religions housed there. There are no tangible barriers that divide one worship space from another which speaks to the true, non-denominational nature of Rollins. 
Moving further inside, I also came across the Hindu temple located within the chapel. Given the need to take off one's footwear, it makes sense to have the temple sectioned off from the rest of the chapel. This space was truly delightful. The light green walls, stained glasses, and burning incense all made for a welcoming and inviting space. Its very presence denotes the chapels' commitment to religious inclusivity. 
Being inside of this space was a unique experience. All the sacred places I've entered before have been influenced by one distinct religion, yet it was evident that Rollins emphasized spirituality over any particular affiliation and that was a welcomed change. 
As the first established religious space for the College, it's no surprise this space is historically significant. Yet, its non-denominational nature certainly welcomes people and will continue to do that for generations to come.