« All Posts by this Blogger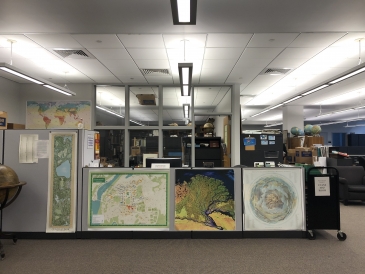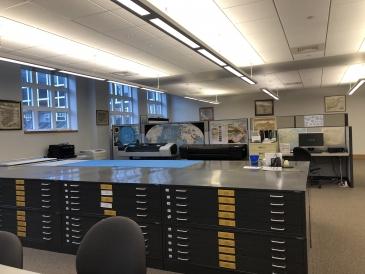 Oh, the Places You'll Go...in our very own Map Room!
As an intended geography major, I've enrolled in a couple of geography courses during my first-year. For the spring term, I decided to take a geography class titled "Women in Asian Cities." Since our area of focus is the East, my classmates and I have had quite the experience familiarizing ourselves with the location of Asian cities and learning more about these urban centers. 
Although our class is heavily focused on studying how women within these cities navigate daily life, the class also emphasizes the importance of situating ourselves geographically. As a result, the class professor took my peers and me to the Evans Map Room, located on the 2nd floor of Berry Library. 
The Evans Map Room is home to over 150,000 sheet maps as well as 3,000 atlases and books. The vast collection of maps housed inside the large room can initially be very daunting. Indeed, upon entering the space, I quickly noticed the maps displayed on all possible surfaces and the hundreds of globes randomly placed on the tables. 
However, this space and its variety in maps speak to Dartmouth's commitment to the study of geography. As the only school in the Ivy League to offer a geography major, students can tap into resources like the Map Room to enhance their educational experience - and that's certainly what I've done this term. 
I'll be examining the life and role of women in the Asian city of Dubai for my culminating research paper. This assignment is broken into multiple stages, and the first stage entails writing a historical analysis of the selected city. As a relatively "new city," Dubai has experienced tremendous globalization and industrialization in the last 50 years alone. 
To chart the drastic changes in the city and the presence of infrastructure, I turned to the resources of the Map Room. Conveniently enough, the Map Room possessed a sizable amount of maps of Dubai. These maps also varied widely in content. Some maps strictly depicted the topography of the area. Others concentrated on mapping the network of roads in the city. In particular, I took great interest in two images that contrasted the level of urbanization in different period of times. One of these maps illustrated the industries located in Dubai in the late 1970s, while the other specifically highlighted the city's endless tourist attractions in the early 2010s. 
The librarians then kindly scanned these large-scale maps in what looked to be like a state-of-the-art, highly expensive scanning device. These images were then shared with me so that I could continue to analyze them in the comfort of my own dorm. All this said, the extensive resources of the Map Room have greatly facilitated my geography assignment and will continue to do so these upcoming weeks!