« All Posts by this Blogger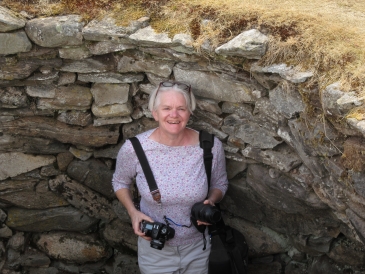 Interviewing Professor Ackerman
Professor Ackerman is a professor of Women's, Gender, and Sexuality Studies and Religion at Dartmouth. A member of the class of 1980, Professor Ackerman returned to the College in 1990 and has been teaching here for the 29 years since her return. She specializes in the Bible and studies the world of ancient Israel in which the Bible was produced. I took my first-year seminar class – Religion 7: Is Dartmouth a Religion? – with Professor Ackerman, and I greatly enjoyed learning about religious theory and analyzing the College through the lens of religious practices. I decided to sit down with Professor Ackerman and ask her about her time here as a student, her interest in religion, the best part about teaching at Dartmouth, and much more. Here is what she had to say: 
Can you tell me a little about your time as a Dartmouth student?
"I came here in the fall of 1976 and I graduated in 1980, so those were my years at Dartmouth. I think for people of my generation, especially for women, probably the most defining part of their Dartmouth experience was Dartmouth's very nascent co-ed status… Back then, there was a rigidly mandated quota, so there were 750 men and 250 women in each graduating class… That's an overwhelming memory I have of Dartmouth, just living through that experience of co-education. 
The other overwhelming memories I have as a student are just how alien this environment was for me. I came here from Arkansas, and Arkansas and New England are very different places. So coming into contact with students who had a very different high school experience than I had was different and strange…
Educationally, I had a fabulous time here. I had great professors. The degree to which they cared about me and were willing to nurture and sustain and help me grow, that was amazing…"
How has the college changed since your time here? How has it changed during your time here? 
"One of the things that struck me when I came back was that the school was nearly equal in its number of male and female students…
A huge thing that has happened in the 29 years since is how much the school has grown and expanded. I would say that the campus I came back to in 1990 didn't look appreciably different than the campus I left in 1980. But by the late 1990s what I knew as Webster Auditorium had been transformed into the Rauner Special Collections Library. What I knew as Baker Library had received that huge addition to it that you know as Berry Library. There has been a lot of building on campus in the last 29 years." 
How did you come to study religion? 
"I was an undergraduate religion major. I took classes in this very room [209 Thornton, where the interview took place] which had desks in it at the time. I took introduction to Hinduism in this room; it was Religion 9. I got an A [she says while laughing]. So it was really a fluke [referring to the first religion class she took]. When I came here in the fall of 1976, quite unexpectedly to me, I was given credit for Writing 5. You can't do that anymore, but then you could test out of Writing 5. I also tested out of Math 3. I tested out of Bio 5, which was the standard, introductory class for pre-meds. I had credit for language 1, 2, and 3…
So I had credit for all the standard classes that first-year students take, and I wasn't sure what classes I should take. My advisor said to me that the liberal arts are for exploring. You should take courses in an area you know nothing about, and I thought that was the worst advice ever. Now, of course, I say it to students all the time, and I did decide to follow my advisor's advice. I decided that an area I knew nothing about was religion. 
I had been raised in a very non-religious family, despite the fact that I had been raised in a very religious part of the country. I took a course that we were still teaching up until about 3 or 4 years ago, called Religion 1, and I loved it. I think I loved it so much because I had grown up in this non-religious family that was very dismissive of religion, but I had grown up in this very religious part of the country that was uncritically religious. Religion 1 was a course that was this middle ground where it wasn't dismissive – it took religion as a human phenomenon very seriously –  but it wasn't uncritical when it came to how it thought about religion… I realized you don't just have to say, "Forget it" or "I'm all in."  There are ways that I can study this and think about this as a human phenomenon across time and space…
One of the things I like when I think about my career is that I took the very first iteration of Religion 1 in the fall of 1976 – I only got an A-, about which I remain eternally bitter –  and I taught the last version of it in the fall of 2015. I like that way about thinking the journey I've been on."
Can you tell me about your work? 
"My specialty within religious studies is my work on the Bible. More generally, I work on the Bible within the world of ancient Israel in which the Bible was originally produced. I'm interested in the question about what the Bible meant for the community that produced it and what were the issues that were driving them or the problems that they were wrestling with that led them to produce this literature. Within that, I have most generally been interested in thinking about things that were going on in the religion of ancient Israel that the biblical writers didn't like. For example, there's a fair amount of polemic about the biblical writers chastising the ancient Israelites for worshipping a goddess alongside the god of Israel. Well, that fascinates me. So, I've mostly been interested in what the biblical writers didn't like. I've been very interested in women's religion in ancient Israel because the biblical writers were all men. I want to know what others' religion looked like. 
Most overwhelmingly, my impression is that when we are looking at the bible, we are looking at the viewpoint of the winners… But just because you're the winner doesn't mean you're the majority. It means that you have the most access to getting your words heard, but again it doesn't mean you're the majority. But what has come to interest me is the degree to which something like goddess worship was probably quite wide spread even though the biblical writers were constantly haranguing people for it."
What's the best part of the Dartmouth education? 
"Of course, I'm prejudiced. I think the best part of a Dartmouth education is the education. I think one of the most memorable parts for most students is participating in a study abroad program. They're one of the things we do best. One of the reasons they're so memorable is first, Dartmouth is pretty distinctive in this model of sending a small group of students along with a professor so you get the full, undivided attention of the professor. You're doing things both within the classroom and outside. So it's a deeply bonding experience in a completely different space that makes you think about the world in a completely different way. I myself did a foreign study program (FSP) and I now lead them. I love leading them. When I was an undergraduate, I went on the religion FSP, which at the time was in London, it has subsequently changed to Edinburgh. Now I take the program to Edinburgh. My colleagues will tell you that I go any time there is an opportunity for me to go. I'll elbow a lot of them out of the way in order to get to the head of the line to get to go to Edinburgh."
What's the best part about teaching at Dartmouth?
"Oh, the students. The students are good. And when they're really good, they're sensational. They just blow your mind. They're so smart and they think of such interesting things and they work so hard. They're just a joy."