« All Posts by this Blogger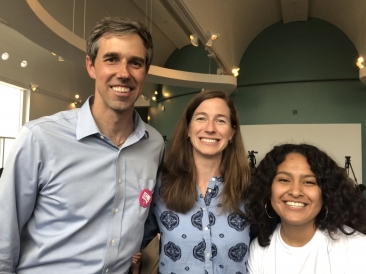 I met Beto and Amy!
One of the perks of attending college in New Hampshire is the front-line access to endless campaign events in the run-up to the state's first-in-the-nation presidential primary. A great number of candidates will visit Hanover and organize events in Dartmouth College to speak to students about their policy positions and plans for the future. 
In the past couple of weeks, we've had great political leaders like Andrew Yang and Kamala Harris (senator for my home state, California) hold events on our very own college grounds. For an intended government major like myself, there's nothing more exciting than seeing candidates mobilizing students to show up to the polls and vote!
The College's prime location also enables students to become involved in politics, and many of our students have become volunteers and quickly raised in the ranks of candidate's campaigns. Many other students will camp out hours before the scheduled time of a candidate's event to ensure they can listen to the potential Democratic presidential nominee for the 2020 election. 
I am one such student. This past Friday, I attended a town hall meeting (located in the HOP) featuring the one and only Beto O'Rourke, former representative of Texas's 16th congressional district. The turnout was huge, with over 300 students and community members in attendance - a clear signal of people's political enthusiasm and engagement. 
Beto O'Rourke talked at length about his issue positions and some of the changes he wanted to enact should he be elected. He particularly emphasized the threat of climate change and the importance of passing legislation to effectively prevent further damage to the earth. He also discussed his opposition to privatizing the Department of Veterans Affairs. He later focused on his willingness to compromise and reach bipartisan agreement on legislation - which, given our polarized political climate, is essential to getting anything done in the Hill today. 
Afterward, he took questions from those in attendance, and several eager Dartmouth students - including myself - jumped at the opportunity to ask him about his specific policies and stances. Although I did not have the opportunity to ask about how he planned to execute his plans, another Dartmouth student posed a question along similar lines. In response, Beto O'Rourke reiterated the importance of compromise and reaching agreement on a piece of legislation even when disagreeing on the intended goals of that policy. 
After an hour of exciting political activity, O'Rourke closed the event, and immediately everyone rushed to the front for the opportunity to snap a picture with the potential presidential nominee. I made my way to the front too and introduced myself to Beto and Amy Sanders, his wife. A lovely volunteer snapped the photo above and that about concluded my experience attending my first campaign event. 
Given Dartmouth's proximity to politics and the endless access points available to students to become involved, this event is only the first of many that I plan to attend.