« All Posts by this Blogger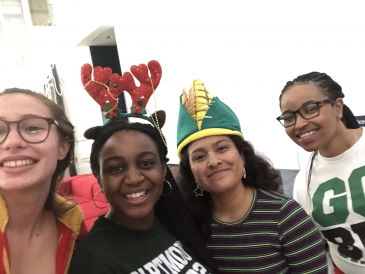 Ever Wonder What it's like to be a Tour Guide?
This past Saturday I wrapped up my final day of tour-guide training which took place over the course of three weeks. After six intensive training sessions, two shadowed tours, several repeated runs, and endless hours spent practicing in front of my mirror, I now have a greater understanding of all the effort and work that goes towards designing an hour-long, student-led tour. Let me tell you, it requires a lot! I came to love the entire process and the amazing trainees and trainers I met. The experience of tour-guide training was never something I imagined doing, but I'm so glad I did. In a matter of weeks, I'll be leading my very own tours. But before I get too ahead of myself, I want to share my account on the rigorous yet super enjoyable process of becoming a tour guide. 
Training sessions first began at the end of the first week for the spring term. Trainings were held every Friday and Saturday for three hours apiece. On the first week, I primarily engaged in group-building activities to get to know my fellow trainees which totaled over 40 '22s and '21s! To facilitate the training process, all the underclassmen were split into several smaller groups. I advanced through the rest of the training primarily working with the trainees inside of my small group, and we were collectively trained by our incredible tour guide trainer, Sruti! 
We covered new material for each session which often took us all over campus. On one day, we visited a multitude of organizations and institutions, such as the Hood Museum, the Wellness Center, and the Dali Lab, to become more informed about different student opportunities at Dartmouth. On another day, we practiced presentation and professionalism to enhance our tours and effectively deliver information and personal anecdotes without unintentional distractions. For yet another session, we participated in Crossing the Line, a group activity that aims to underline varying values and experiences. It was eye-opening to see the diversity in students' experiences and the similarities and differences we all shared. 
All of these training served to highlight that everyone's Dartmouth experience is different and unique in its own way. These training also informed me how to approach formulating my own tour so as to avoid making any blanket statements and harmful generalizations. I thoroughly appreciated the transparency with which the tour guide trainers approached each session as well as the sense of individuality they championed in preparing our own tours. 
These training coupled with additional "homework" - like shadowing tours and further researching several features of the school - have sufficiently prepared me to lead my own tour. All that is left is to pass a final evaluation, and then I'll finally be tour-guide certified! I can't wait to share my experiences with visiting students and families!