« All Posts by this Blogger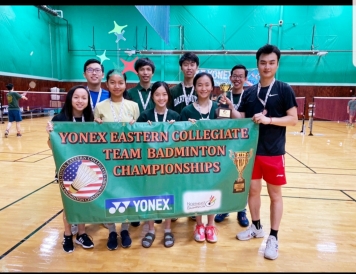 A weekend of competitive collegiate badminton in Boston!
 One of the clubs I am most passionate about on campus is the Dartmouth Badminton Club. I started playing badminton when I was about 12 while I was in middle school and have loved the sport ever since. 
During the summer, I spent a lot of time browsing through a myriad of clubs and student organizations that Dartmouth offers. The Dartmouth Big Green competes in the Ivy League Division 1 of the NCAA (National Collegiate Athletic Association). But, aside from varsity sports, there are several other club sports (such as fencing, karate & tennis) which students can also choose to do. Intramural teams are also a fantastic way to start a sport, meet friends and/or upperclassmen, and of course, get some house points for your house community! 
I was extremely excited to find that Dartmouth had a badminton club and made a beeline at the Student Involvement Fair to sign up. The Student Involvement Fair is an activities fair held every fall where students are introduced to the many ways to get involved in Dartmouth. Stand-up comedy. A capella. Mock Trial. There are over 200 groups, so you have a lot of freedom to take up any curiosity you have!  

        
This weekend, November 2nd and 3rd, the 2019 Yonex East Collegiate Badminton Championships were held in Worcester, Massachusetts. Our small but tight competitive badminton team drove the two-and-a-half hour ride to compete in our first tournament of the year. As one of the four freshmen on the team, I couldn't wait to kick start my first trip off-campus as part of the Dartmouth community. I've always been a part of sports in high school, but the thought of wearing the Dartmouth name across my chest was one that instilled a lot of happiness and pride within me. 

We left Dartmouth on Friday, the 1stof November, at about 4:15p.m. in two cars. We had rented an Airbnb in Worcester and we arrived there at around 7 pm. That night, our team went out to get Hot Pot for dinner. For those of you who are unfamiliar with this dish, you are absolutely missing out! Hot Pot is an Asian dish where a large pot of soup stock with the broth of your choice is typically shared between a group of people. You can then order side dishes of your choice — meat, vegetables, wontons, seafood — to cook in the soup. Truth be told, hot pot is more of an experience than a dish. We all had missed getting Hot Pot in Hanover, so that night was undeniably a satisfying one for us! 
 The two-day tournament was a thrilling one for us. In our group bracket of 3 schools, we came out 2nd behind the University of Connecticut. This meant that we were up against the school that came out 1st from another group bracket: the University of Rochester. After 8 matches, the score was tied between Dartmouth and Rochester, and the final tiebreaker came down to a mixed doubles match. As I cheered on my upperclassmen, I went through a whole ride of emotions from anxiety and stress to glee and motivation. It was a very tight game but in the end, we emerged victorious — we were in the top 3!  

        
Sunday was another day of games for us. Everyone was sore and tired from the day before and late-night studying for our exams. Yet, we tried to keep one another's spirits up, following the words of our co-captain: "Let's go team!" We lost our first match and put up a strong fight against another school, but we came out 3rd. It was a little disappointing for us as we felt the victory slip from the tip of our fingers. However, once we were well rested and took a good minute to look back at the weekend, we were sincerely proud of our team for having come so far in the tournament despite being a young group. 

    
My ride back to Hanover was one of content and most of all, I felt like I had gained something a lot more valuable than any medal or name — friendship. I have come to befriend my fellow '23s who did not share classes or even other interests as I did and bonded with upperclassmen over late-night talks. As a college freshman, joining clubs that you're interested in (or even starting your own!), no matter how small they may be, and meeting people through such activities really help you find your place on campus. I have come to know and love the people whom I've met through badminton, and I am excited for you to experience the same!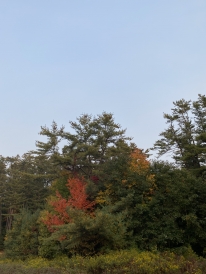 As I reckon with a Senior Fall that looks quite different than those past, I've decided to reflect on my previous Fall terms (both on and off campus) to help me find the common thread between four vastly different Fall term experiences.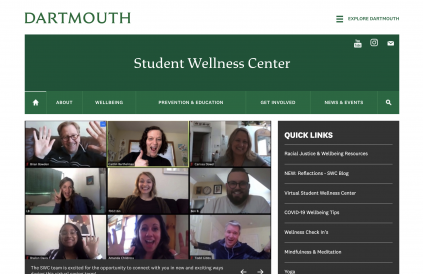 When applying to college, research what the college you are applying to will do to best support you! In this post, I share a few of the numerous resources Dartmouth has provided me with to become a better me.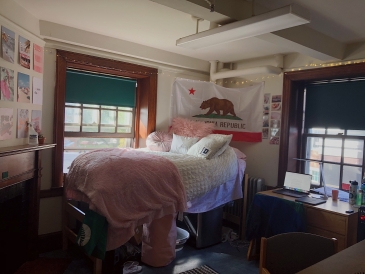 Today, I thought I'd reflect on my Dartmouth move in experience and share how I've been adjusting to residential life at West House so far in the "new norm."

The tree outside my door becomes more and more red each day, I ordered a Pumpkin Spice Latte from Starbucks the other day, and on several occasions have stopped dead in my tracks to enjoy the beautiful New England foliage.
Dartmouth may be your dream school, and you might be over the moon with gratitude to be staying in a gorgeous autumn-leaf strewn campus beneath a perfect blue sky. But be that as it may, adjusting to college life right now isn't easy.  

Being gone from campus for a full year and now living off-campus, I am currently feeling some serious nostalgia for delicious food and amazing staff of Dartmouth Dining Services (DDS).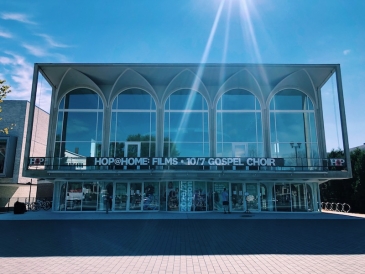 With Early Decision deadlines right around the corner, I thought I'd share a moment that made me super excited to submit my Early Decision application about a year ago.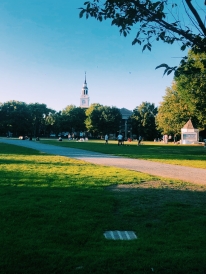 With Dartmouth students out of quarantine, campus has a feel not too different from that of a "regular term."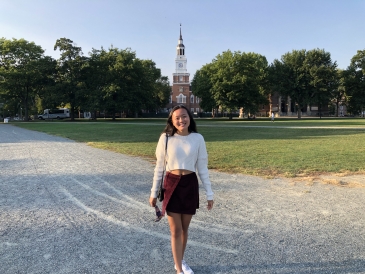 Classes are well underway, we've completed our 14-day quarantine, and it's the perfect time to soak in the sun with new friends!