« All Posts by this Blogger
Oh, FoCo, how I have missed you!
It's only been a week of winter term, but in the past seven days, I've already gone job hunting at the Student Employment Job Fair, learned ways to get involved in the community at the Social Impact Fair, and of course, broke into a good ol' fit of laughter at our first all-school snowball fight. Oh, how I love the bustling life of college! 
With everything going back to its regular schedule, so has my campus meal plan. Don't get me wrong, I've loved making my own lunch salad and hosting dinner parties with my friends during the break, but with classes starting again and the snow building, I definitely need a warm meal I can just sit down for. 
I like to think that I'm a huge FoCo fanatic. I know some of us can get tired of eating at the same place regularly with the same staples from week to week. Yet, I find myself falling in love with FoCo more and more. From the friendly "Hi, how are you?" from the lady who swipes my student ID card at the entrance to desperately trying to find a seat on one of the bench sofas, every visit to FoCo is a new experience for me. Here's a snapshot of some of my FoCo dinners this week!
This was my first meal at FoCo right after winter break, on the day FoCo reopened. I'm sure you can imagine my excitement by the number of chicken wings and fries I had on my plate! I also had a Monte Cristo sandwich (a kind of French toasted ham and cheese sandwich), some sautéed spinach and onions, and brown rice with a mix of vegetables. I also like to create my own drink of apple juice, green tea, and a third mystery ingredient (chef's secret)! Top this off with a side dish of kimchi, Korean pickled cabbage, and I am good to go! 

On this day, I had penne with garlic and chili lime peanut noodles, which has its origins in Thailand. Of course, I need to get my usual kimchi, some rice, and fries and a beef patty from the grill. If I'm really feeling healthy, I like to take my time at the salad bar and make my own mix of veggies: spinach, lettuce, cucumbers, and a couple of cherry tomatoes too!

Salmon is one of my favorites at FoCo! Whenever there's salmon for dinner, I immediately make a beeline to the grill. I also had some fried flounder and chicken adobo, which is a type of Filipino chicken stew. I grabbed a couple of fries and a beef patty as well as some veggies (yes, to balance out the fries). Add some kimchi, a bowl of clam chowder, and a cup of warm salted caramel, and you've just made one of my favorite meals here! 

Sautéd fresh scampi, one of my other favorites here. We can choose our own protein topping - I had mine with shrimp and mushrooms. There was also Sauerbraten, a type of German roasted meat dish. From the grill, I got some potato pancakes and fried calamari. And of course, my go-to scoop of rice and veggie mix! 

Here, I had Kimchi Jiggae, a Korean kimchi stew with a vegetarian twist, baked salmon, and fried spinach. On very cold days, I also like to grab myself a cup of chicken noodle soup. Saturdays also mean it's sushi day, so you can see a glimpse of some tuna avocado rolls just under some kale and cucumber mix!  

FoCo is easily one of the many, many things I love about Dartmouth. I always feel that I learn about food from a different culture, from the Korean kimchi stew to the Thai noodles, German beef roast, and the Filipino chicken dish. After a busy day, I find comfort at my dinner table with my friends, laughing away the day's worries and enjoying good food at FoCo.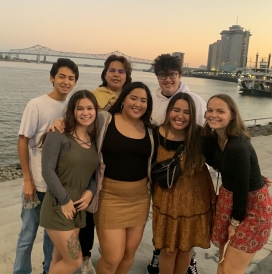 But at the end of the day, when people ask me what my favorite Dartmouth memories are, I'm always thinking about the place. Ice skating, pink sunsets, riverbanks, or canoeing? That's my highlight reel.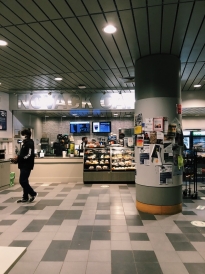 In a world where proper social distancing is so important, Novack Café has fulfilled a unique desire for current on-campus students; it's a place to study, hang out with friends, and grab a snack—all while staying COVID safe.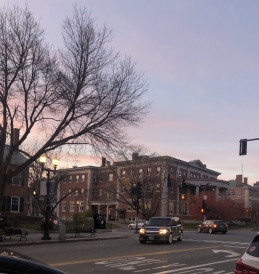 The last week of October was especially ~spooky~ as I was able to find more time than usual to enjoy my weekend with friends and the small-town-charm of Hanover.

While the student body at the College may be relatively small, students here recognize that their vote can hold a lot of weight in New Hampshire, a classic swing state.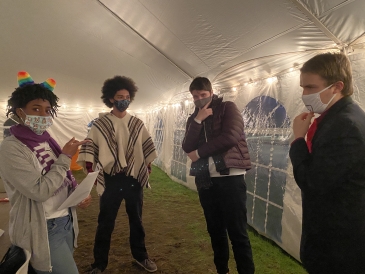 After walking around campus all day in eye-catching attire, we headed to a Murder Mystery night hosted by Phi Tau (a fraternity) in one of the tents scattered around campus.

On Friday, a few friends and I decided to take part in an event held by Collis After Dark, which organizes a lot of the student programming on-campus.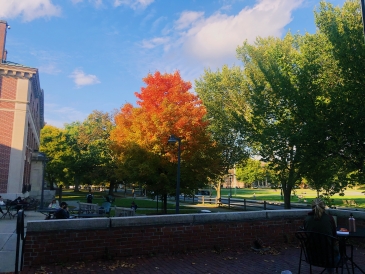 My personal visit to Dartmouth was a huge factor in my decision to apply, so in honor of Week 7, I hope this blog post can virtually illustrate some of what Dartmouth has to offer in seven images – worth 7,000 words!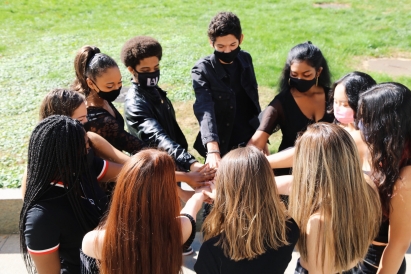 As a member of multiple performance groups on campus, I thought I'd give you a bit of background info on the opportunities here and discuss what we've been up to!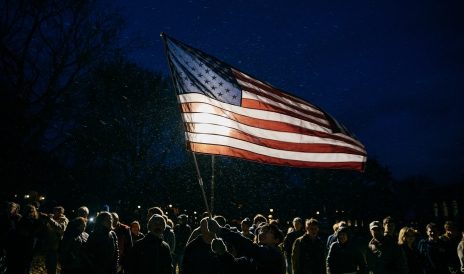 In honor of Veterans Day, I was able to interview student veteran Eugene Lovejoy '22 to hear about his experiences in the United States military and as a Dartmouth student. Read on to learn more!