« All Posts by this Blogger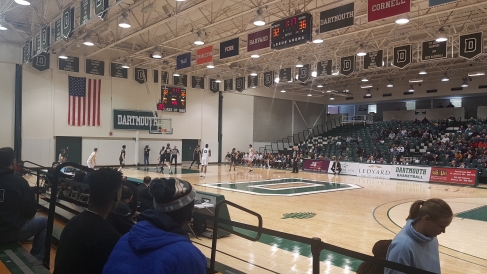 Big Green Basketball (Winterim Sports!)
Six weeks of the winter break are flying by. The hallways of the dormitories are peaceful and the Green is fairly vacant except for some who come to see the huge Christmas tree lit up at night or groups of little children who run around playing in the snow.
As quiet the campus is, the Dartmouth Big Green, our athletic teams, is alive and in fiery action through the winterim. Because we begin our winter break much earlier than other colleges, a lot of our winter sports are still taking place in December: track, basketball, squash, ice hockey, and swimming. This weekend, my friend and I went to a men's basketball game at Leeds Arena. This was doubly special as not only was it our first time at a Big Green basketball game, it was the last game of the season before the Christmas holidays.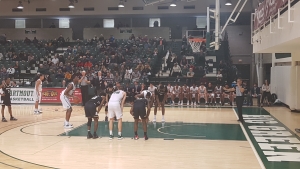 If you're like me and are a huge basketball fan, you're definitely going to enjoy going to the Big Green games. Dartmouth students get free entry into the arena and you can choose any seat of your choice! We arrived about 15 minutes late so we weren't able to grab the really good center seats. But, hey, the ones near the sides are a hidden gem if you want to get close to the action and see the players when they enter the player's tunnel at halftime! If you know your college basketball, you might know that these games are 20-minute halves. This meant that by the time we arrived, the first half was almost over with only 1:17 on the clock. The Big Green gets two free throws! Dartmouth 32. Bryant 36. It wasn't hard to join in the excitement, though. Along with Dartmouth students, I spotted several families in the crowd, both the parents and the kids standing up in anticipation and clapping loudly whenever the Big Green stole a possession. This is one of the many times when you can really feel the presence of community that transcends beyond Dartmouth's walls. Just look at how cute these elementary students are running around in little yellow and burgundy shirts!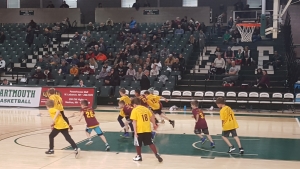 At halftime, aside from the bustling concession stand, more fun and games were underway. First, there was a short ball game between the 3rd and 4th graders from an elementary school in Lebanon. I felt like this really helped lighten up the competitive tension in the arena and cheering on the kids as they tried hard to throw the ball up high enough to hit the rim was just so adorable.
 Next, there was a T-shirt toss. If you're unfamiliar with what this is (just like I was!), it's exactly what it sounds like. A handful of Dartmouth athletic shirts are thrown into the crowd by officials on the court. This is really where the center seats triumph all because unless you're SUPER loud and do something really crazy to attract attention to yourself, the T-shirts are usually tossed to the center seats. There was also a short trivia where an audience member was chosen to answer a question on the history of Dartmouth sports. All these events were so new to me because not only is basketball an incredibly young sport in Myanmar, we never had any audience-involved activities during sports games. This was such a fun way to keep up the spirit and genius way to pull in first-time attendees!
If I had missed the intensity of first-half of the game, I wouldn't have known because the second half was 20 full minutes of exhilaration and anxiety. The score was neck-to-neck.
A three-pointer by Bryant to pull ahead.
A two-pointer by Dartmouth to close the gap.
With 2:24 to go, it was Dartmouth 58, Bryant 61. Everyone was on their feet. I had my palms pressed against the sides of my cheeks and my friend had one of his hands holding on to my shoulder. The kids behind us were jumping up and down, occasionally spilling some of their popcorn on us. As the clock wound down, the whole arena was on edge as the orange ball from the hands of one team to the other. In the final seconds, Bryant got two free throws in and pulled ahead. It was just a 4 point difference!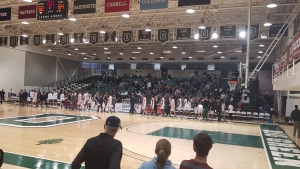 The Big Green will be back after the holidays! Going to my first basketball game at Dartmouth, not only did I see my first dunk, I felt enamored by such school spirit and how people were so proud of the school they go to. I was already a lover of the game but if it's possible, I think I might just love the sport even more now.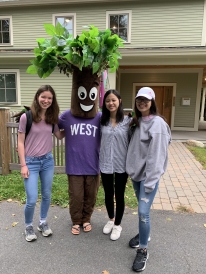 Looking back at my housing selection process, I realized there is very little information available about the LLCs. I wrote this blog post to tell you five reasons why I love the Humanities LLC.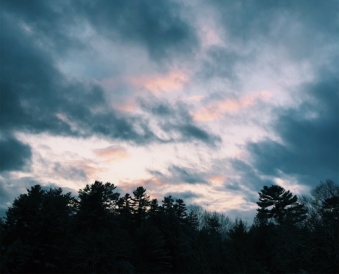 As a southerner, my biggest concern about Dartmouth was how I was going to cope with the cold. Luckily, I have a lot of friends that are also excited to embrace the snow with me, so I wanted to share how we've been enjoying winter term so far!

I've taken to sitting and watching, treating myself to the slowness of green tea and silence of an uninterrupted morning. But that's one of the best things about college—it offers ample moments for reflection.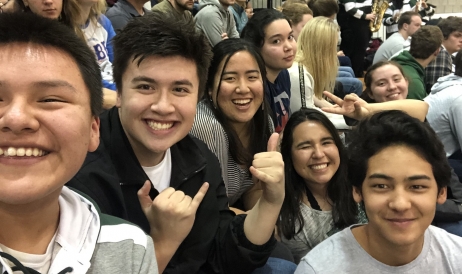 Being in West House means Tuk-Tuk dinners and fun house events almost every week, but this month it also means having the opportunity to join West House's Intramural (IM) basketball team.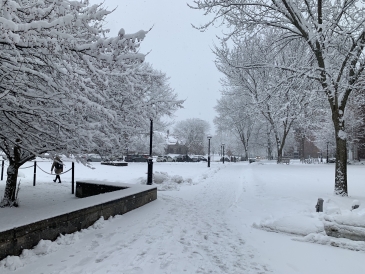 Coming to Dartmouth, I already had a plan of the types of communities I wanted to get involved with. One thing I didn't expect was meeting some of my favorite people at the Tucker Center for Spiritual Life.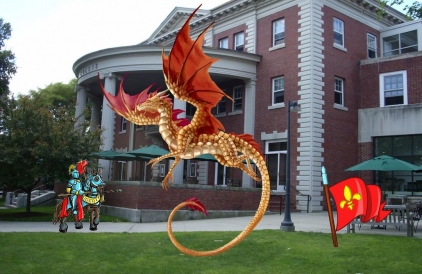 Collis gets two million visitors a year – why wouldn't you be one of them? Come join the fun and read on to learn how to make the best use of Collis as a socializing space!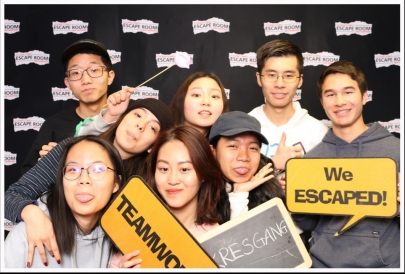 Come the 3-day weekend, the eight of us rented two cars and drove off from Hanover in the morning. Our destination? Concord, the capital city of New Hampshire.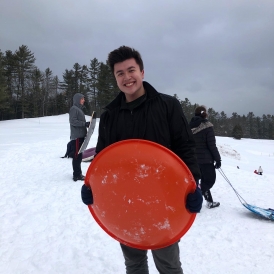 The idea of Dartmouth's unlimited snow used to be intimidating, but the past two weeks have been full of peaceful coexistence between students and seasons like no other. Winter's here and we love it.

As cliché as it sounds, students walking in small hat-topped flocks, laughing through brisk air, is a sport we take seriously around here. And it's one of the best ways to stay warm.