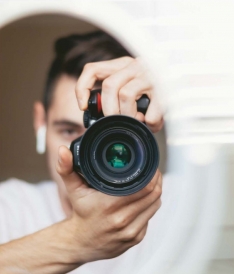 Take an Existential Selfie
Here's a counterintuitive thing about a college search as it takes shape: it's not about a college. Oh sure, you're looking at colleges as you check out a campus and ponder its program, culture, and vibe. You wonder if it's affordable, far enough from home, whether its degree will enhance your resume. Those are important considerations, but they lack context as a search commences. 
An embryonic search requires a more personal point of reflection as your queue of institutional priorities takes shape. Who am I, what's my best environment, and what are my hopes and aspirations? A college search is your search. So start with you. Hello, you.
I'm not advising narcissism. And this isn't the mirror moment from Snow White. But a mirror metaphor is a helpful way to frame the issue. Look at yourself. Take an existential selfie, of sorts. Seriously, pause and ponder. What animates your personality, talents, interests, and goals? Write those things down. Add a degree of weighting to each item as a priority of more or less importance to you. Now, guided by that vivid selfie, assess your higher ed options.
Start with what I call program. Do you like exploring, or are you ready for a specific academic path? Do you favor words more than numbers or equations more than languages? Hands-on learning more than notetaking? Open options versus requirements? Every college offers a different answer to those personal inquiries, and they are important clues for you to examine. Do you favor discussion or listening, familiarity or more anonymity? Do 10 seats around a conversational table with a professor feel cozy and stimulating or too confining? Does a lecture hall of 500 with a faculty member presenting to you feel exciting or intimidating? Would you raise your hand? Do you want to raise your hand? Those are clues about campus scale and classroom size from your perspective. My answer to those questions might not be yours. (I always preferred a small circle, and I raised my hand. But that's me, not you.)
Are you a city gal, outdoorsy, cosmopolitan, a hip kind of guy, a tinkerer, crunchy? Are you entrepreneurial, conservative, an activist, a geek? Are you laidback or do you thrive on competition? Those qualities will ultimately inform the application you submit (more on that later) but, right now, they also inform the list you explore. Do you need a jazz scene nearby or a place to get your hair cut? Do you hope to watch your university play its football games on ESPN or is club soccer okay with you? How close is a major airport, and how straightforward would the semesterly trek to and from campus be? Do you want to drive or fly? Maybe it doesn't matter. Maybe it does. You tell me. 
What else? What matters to you? How do you feel about snow? Humidity? Subways? Cows? Diversity? Brick sidewalks? Museums? Religion? Partying? Open spaces? Required courses? Politics? Night skies? A rah-rah vibe? Quarters versus semesters? Nightlife? Intensity versus chill? Are you a nerd who needs a community of nerdy peers? So many questions. Only you know the answers.
Your sister's search last year wasn't your search, even if you tagged along on the visits. Your best friend's list mustn't map with yours. Maybe it's time for you and your twin to go solo. Maybe mom's Alma Mater doesn't sing to you even though you've been wearing the sweatshirt since you were in diapers. This is about you. Own it.
Begin your exploration and discovery phase with self-assessment—then progress to your list of options. Your list will shift. Your priorities will rise and fall. A few might evaporate from your list and others might reveal themselves as you learn more about the various options and consider them through your own prism. It's a fluid process. Shifts are normal, good even. A college that feels appealing might yield a type of college that hadn't occurred to you—like a women's college or a rural campus. If so, check out a second one. Is a theme emerging, or was it a one-off reaction?
Be open to surprises. Names you know might not be the right match for you and vice versa. Set aside "reputation" as you begin your list and consider the substance of each place as you meet it. Today's list won't necessarily be the one you end up with at the application deadline. And don't worry about those deadlines right now. This is the time to explore, try things on, sort things out. When something doesn't resonate, let it go. When it does, look closer, add more options that channel whatever theme you've identified as important. 
Make sure your selfie is "in focus" so your reflected self is accurate. Ready, set, click. What do you see?
P.S.
The College Board offers a very useful college-finder feature called "Big Future" to help you discover options.  
Episodes 2, 3 and 4 of "The Search," my new podcast, share insights from high school seniors and college counselors about starting your search and assessing fit. Here's how to subscribe.