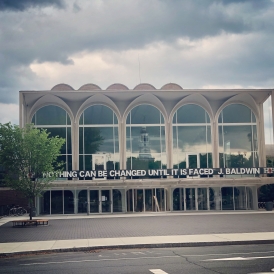 "Nothing Can Be Changed Until It Is Faced"
George Floyd suffocated under the knee of a Minneapolis policeman on May 25. In the days since his murder, the anguished national response to yet another incidence of police brutality has transformed the way I understand issues of race in America. 
A week ago, "CBS This Morning" aired a powerful segment on the peaceful protests against police brutality and systemic racism. A reporter in New York City interviewed a woman carrying a placard that ripped out my heart: "When your complexion is a weapon you are never unarmed," it said.
Her poetic and devastating sentence hit me hard through its piercing clarity.
A colleague shared worries about his black son in DC who's been joining the protests near the White House. "I can't tell him not to do so but you just never know..." he said as his voice trailed off and his eyes welled on my Zoom screen. Mine did, too.
A friend texted me. "I'm just numb," she typed. "My nephew lives in Brooklyn. He was here with me yesterday, thankfully. But I worry about him. I worry about him as a Black man every day but especially now."
And I worry for them. My friends, my colleagues, the students I've invited to join this college community, people I don't know but whose outrage, anguish and frustration I am absorbing and sharing...
"I'm 20 years old…and I don't want to die," a performance artist from LA told "The Daily" about why he'd joined a Seattle protest. "I'm here for my younger brothers," a woman said on that same, emotionally raw podcast. "They've been profiled since they were eight."
They are "never unarmed." That placard in New York is tattooed on my brain.
Last Tuesday afternoon, I listened to a story on "All Things Considered" about the worldwide protests. A Swiss tourist explained why he'd joined one in Midtown Manhattan: "It is an issue of basic humanity and basic decency." Yes, I agreed. I listened as an activist in London shouted, "Black lives have always mattered." Yes.
Despair, anger and profound hurt animate our communities of color as they mourn again. Again. George, Breonna, Ahmaud, Tony, Sean and so many others... The ugly stain of racism is America's original sin. It haunts us.
By midweek, I was deep in troubled thought as I walked across Dartmouth's empty campus when I encountered this banner on the façade of The Hop: "Nothing can be changed until it is faced." James Baldwin's words, coupled with the protester's cardboard sign that had stung me into a new consciousness, stopped me in my tracks. I couldn't walk any further because I was crying.
Nothing can be changed until it is faced.
The ideal of the American Dream is a nightmare right now for too many people of color. I am ashamed to see Canada's Prime Minister rendered speechless at a press conference before he whispered, "We watch in horror and consternation." I am heartbroken for all of us.
But I am defiant. 
I've always thought about admissions work as imagining the future. The classes we shape at places like Dartmouth—cohorts drawn from a broad and heterogeneous array of backgrounds and perspectives—are social templates for what I hope the world becomes as our students claim the leadership roles our mission celebrates. I know that's idealistic. But if a college cannot be an agent for change, if a college cannot embrace idealism as it educates students in academic and personal contexts, where does idealism thrive? It lives here. It must.
I am listening and learning, and I have had many, many moments of painful clarity. But I refuse to surrender my optimism, my compassion, my support for those who deserve it as I try to look forward.
Over the weekend, Barack Obama remarked on what he considers "a sense of urgency that is as powerful and transformative as anything that I've seen in recent years." The former president added, "I hope you're channeling that anger towards action." I am. As a first step for me—as an American and as a college admissions officer—I made a donation to the United Negro College Fund, and I'm exploring ways to offer my professional perspective to its work. 
What I have witnessed and processed over the past week has vaulted me into a new place. It's pushing me to rethink what I thought I knew.
Nothing can be changed until it is faced.
Posted 06/09/2020