« All Posts by this Blogger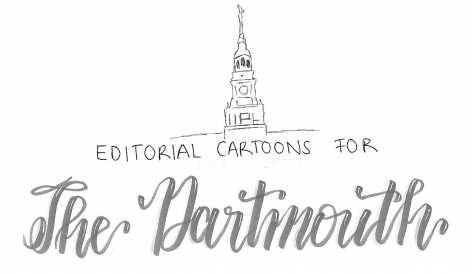 What Do Jake Tapper '91, Mindy Kaling '01, and I Have in Common?
We all have drawn cartoons for America's oldest college newspaper, The Dartmouth!
I have never explored the world of cartooning prior to Dartmouth. I have only doodled and drawn recreationally - nothing too serious. Yet in the short span of a few weeks, I fell in love with the craft. Let me tell you how...
My passion for drawing cartoons first started in my Writing 5 class this Fall. We were required to strengthen our arguments with a visual. My amazing professor, Andrea Kremer, allowed us the flexibility of creating whatever visual we see fit as long as it clearly conveys a message and supports our thesis: graphs, tables, diagrams… or even cartoons. That is exactly when my artsy side unleashed.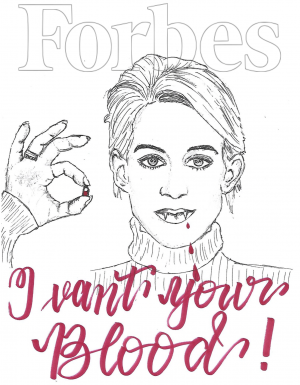 Since my Writing 5 class is based on examining manipulative marketing and cognitive traps, our first assignment focused on Theranos, a fraudulent Silicon Valley start-up that falsely claimed rights to a blood testing strategy requiring a mere finger prick of blood. After brainstorming, I decided to make a parody of the Theranos CEO's Forbes cover.
Later, for my final research assignment for the Writing 5 course, I drew another cartoon - this time about the debate surrounding egg-freezing employee benefits offered by big tech companies.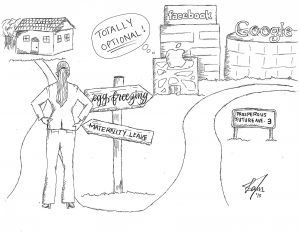 The whole process of drawing cartoons was quite enjoyable for me. I especially love improvising and letting my creativity take me away - making drafts after drafts, layering, and inking. Although the process got slightly tedious at times, seeing the end product is so rewarding. Most importantly, I was able to practice my favorite pastime - art-making - in a way that I never had before!
I knew I wanted to explore cartooning further, and coincidentally, I received a blitz (email) about a job at The D (our college newspaper). I had to try it out!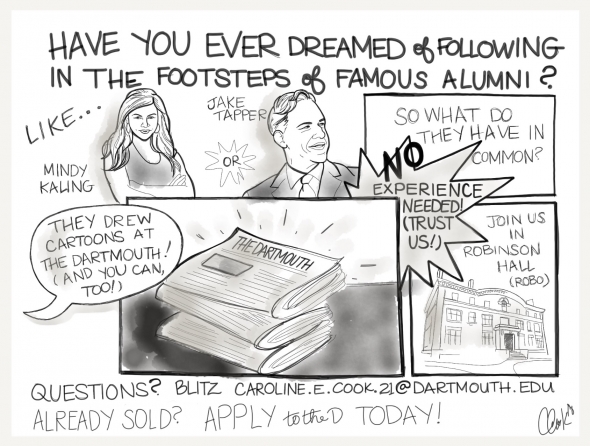 After talking to my supervisor and looking at past cartoons, I realized how great of an outlet editorial cartooning is to express one's thoughts. The cartoons featured on The D tackle topics ranging from campus culture to global news. Moreover, not only do students interact with them, but the public in Hanover and the Upper Valley does, too. The cartoons (as well as the opinions section in general) open up interesting conversations that truly cultivate a community of engaged individuals on campus.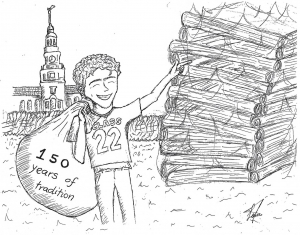 Only a few weeks into my first term here and I managed to pick up a new hobby and broaden my horizons in art-making.