« All Posts by this Blogger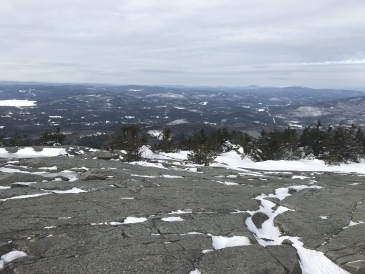 A Snowy Hike with Cabin and Trail
Coming to Dartmouth, my experience with the outdoors was very limited. I had only camped out once and went hiking for the first time on my First-Year Trip. I knew I wanted to experience the outdoors more and not miss out on one of many great opportunities offered here, so I signed up for a hike with the Dartmouth Outing Club's Cabin and Trail (DOC CnT). Besides the fact that I am going on a hike in the winter, I certainly did not know what to expect, but I was very excited to try out something new!
At 9 am on a Saturday, my roommate - who I asked to join me for a cute bonding experience - and I joined six other Dartmouth students, whom we have not met before.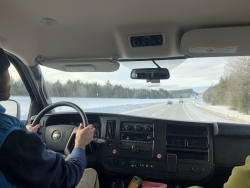 Led by our two trip leaders, we drove up to Mt. Kearsarge, in Wilmot, New Hampshire. As soon as we arrived, we put on gear, many of which I had no clue about prior to the trip (over-boot and mini-spikes?) and hiked up the trail. 
Hiking in the snow is an absolutely different experience. Being the amateur that I am, my leg would occasionally sink in the unpacked snow; I am not ashamed to say that I slipped over 20 times, each time fortunately unscathed. Luckily, the DOC trip leaders are some of the most patient and caring individuals you would ever need on a trip like this!
The group waited for me to catch up and took a good number of breaks to accommodate for my newbie hiking experience. They always ensured we all had snacks every now and then (Trips snacks are the best!) and de-layered or layered when necessary. 
Although it was a quite strenuous hike for me, I am so glad I did it. The breath-taking view from the top of Mount Kearsarge made it all worthwhile. We could see frozen lakes from afar and the beautiful New England greenery covered in white. I did not take too many pictures because it is nice to take a break every so often and unplug - I also wasn't too keen on taking my hands out of my mitts! The few pictures I did take do not really serve the views justice. Not to romanticize it too much, soon, a strong wind blew and we hurried back down the snowy trail to avoid freezing!

Going on trips like these is one of the aspects that make the Dartmouth experience one of a kind. I got to borrow all of the gear for free and try out an activity that is quite foreign to me. Not only did I receive a lot of support, but I also had the chance to get to know some more students from various classes and majors who I may not have necessarily met otherwise. If you ever end up at Dartmouth, I believe the DOC's Cabin and Trail is definitely one thing you should consider getting involved in!