« All Posts by this Blogger
My First EVER Snow Experience
Winter came early in Hanover. Over the span of one week, the temperature went from 50 degrees at night to 20! When it first snowed, my roommate and I ran out of our dorm to witness the snow… only to find many of our floor mates outside, too! No one believed the snow would stick when it snowed the day before. Yet, Hanover always has a lovely way of surprising us. The next morning we were greeted by beautiful mounds of frosty white flakes covering our campus outside our windows - it was my very first snow experience!
The snow this year had impeccable timing; it came on our last day of classes. After my Writing 5 class ended, marking the beginning of our pre-finals study period, my classmate Jack called out, "Who wants to go sledding on the golf course?"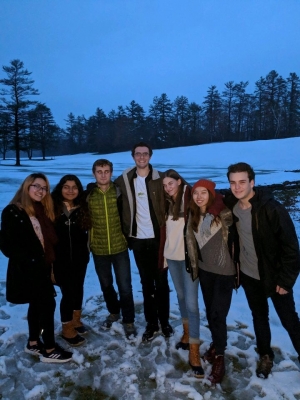 Although it was not what I had in mind for the day, the spontaneity made it all the more thrilling. I also needed a break from the rigorous Dartmouth work load, and just like that, I went on my best study break yet.
Making sure we don't miss daylight, my friends and I grabbed gloves and sleds and hiked to the Hanover Country Club, Dartmouth's public golf course - the perfect place for sledding during the winter. The fluffy hills made for perfect slopes. 
Finals week was never this enjoyable before. 
My snow foray did not end here. I also can't end this blog without mentioning a great Dartmouth tradition...
At 10 pm, we received a blitz (an email) from Dr. Seuss '25 hinting at a campus-wide midnight snowball fight in celebration of our first snow. 
"At midnight (11/16/18) there will be a fight!

A snowball fight this very night!

Come jump and shout and sing and dance!

Come put snow down someone's pants!

 

Come join before spring alights,

In one final snowball fight.

Come and throw some snow with me,

You will like it, you will see!

-Dr. Seuss"

 
Exactly two hours later, The Green was packed with undergraduate students armed with snowballs and ready to fight!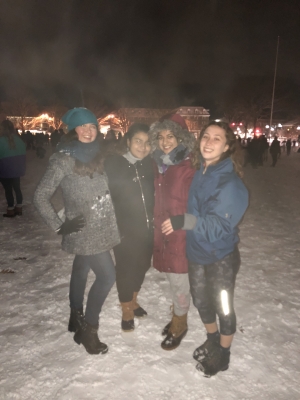 My action-packed snow experience at Dartmouth was amazing. I would not have it any other way! With Winter Carnival (celebrates the beauty of Hanover winters) around the corner, this post is likely one of many more winter-themed posts to come!