« All Posts by this Blogger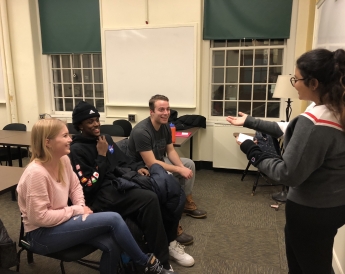 Learn a New Language... the Dartmouth Way!
John A. Rassias (1925-2015), a former professor at Dartmouth, developed a highly effective and innovative language learning strategy in 1967 known as the Rassias Method® or the Dartmouth Intensive Language Model. Using the Rassias Method, students learn enough of a foreign language in "drill classes" to go abroad for accelerated study in a Language Study Abroad (LSA), which Rassias was the founder and former director of. 
"Since the introduction of the approach to all language departments (including Chinese, French, German, Modern Greek, Hebrew, Italian, Japanese, Latin, Portuguese, Russian, and Spanish), the number of foreign language majors has steadily increased." In fact, the Rassias method is found to be extremely successful that 'teachers in other colleges introducing the Rassias Method report similar renewals of interest". (You can watch Rassias's TED talk, here!) Therefore, when I heard the Arabic department was hiring drill instructors for the Winter term, I knew I had to try out.
The method comprises of a backward build-up of sentences, wherein each sentence or phrase is broken up into smaller sections to facilitate memory and mastery. The students would repeat the phrases upon a surprising cue by the instructor like a finger snap. These cues are meant to keep the students attentive and on-edge for their turn to speak. Drill sessions are taught exclusively in the language being taught. Therefore, elaborate gestures and some acting is required from the instructor to convey meaning. Drill is an incredibly engaging, fast-paced process that lasts for 50 mins, and is held four times a week. Having said that, the procedure takes some time to master as an instructor. However, after four days of intensive training with my fellow drill instructors ending in an official try-out, four instructors were selected to teach drill for the Winter!
Today, I taught my first drill session and I cannot describe how truly fun it has been to help out with language learning. Drill is one of the facilities available at Dartmouth that foster a cooperative learning environment; you can teach drill even if you are a freshman. Because you get to engage with the same group of people four times a week for a term, drill classes are yet another space where new friendships can be formed.
What's even more exciting is that students officially qualify for LSA programs upon completing two or three language courses; they have traveled to Fez, Buenos Aires, Toulouse, Beijing and much more. Many of them get the chance to live with a host family, through which they can truly be immersed in a foreign atmosphere and gain a firm grasp of the language.
As a language enthusiast myself, I am absolutely excited to join a French class later on in my Dartmouth journey. I truly believe that the path to mastering a language is practice and that is exactly what the immersive Rassias method emphasizes!