« All Posts by this Blogger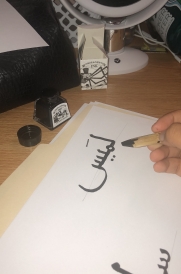 All You Need is the Bamboo
Every Thursday students who study or are interested in Arabic converge in the lounge of Bartlett Hall to discuss topics related to the various cultures of the Middle East and North Africa over sweets, biscuits, and Moroccan tea. Prof. Mohktar Bouba has been arranging our sessions this term, focusing on music and culture of North Africa. Thus far, we have had a session dedicated to such creative and engaging topics, ranging from rap to dialects in North Africa and the Sahara that even I, an Arab, did not know existed!
Besides being an arts and poetry enthusiast, Prof. Bouba also happens to be an extremely talented calligraphist in Arabic script! Therefore, we were beyond excited to know that he organized a crash course in calligraphy one Thursday.
We were greeted by a bunch of bamboo pens, ink proof paper, and jars of black India ink ready for our use in Bartlett. The session was focused on two specific fonts: ruqa'a and maghrebi. Starting off using markers, however, we learned how everything about calligraphy is geometric. "Every line is made up of approximately 7 small boxes," said Prof. Bouba.
In the beginning, there were many issues with my work: my lines were shaky and I pressed too hard on the pen that the ink splattered. However, Prof. Bouba always gave the best tips. He also had such interesting stories. Prof. Bouba told us that he and his friends never had the chance to meet their calligraphy teacher. They listened to his instructions over the radio and sent him letters with their work, only to receive them a while later with advice and corrections!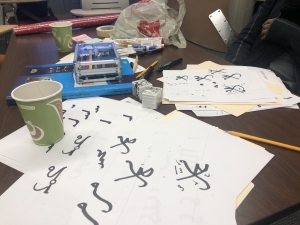 After several tries (and cups of Moroccan tea), I started to get the hang of it. To the right is proof of my slow and steady improvement. By the end of the session, I even had the chance to level up and use an actual bamboo pen. Of course, the effort does not stop there: I took the supplies home to practice some more!
I was so happy to be able to broaden my interests in the arts and receive such amazing help from a professional in the comfortable environment of our very own Arabic club at Dartmouth. All of these interesting discussions and lessons only took place over the course of the few weeks after I discovered the Arabic club. Therefore, I am thrilled to see what more is in store for next term!