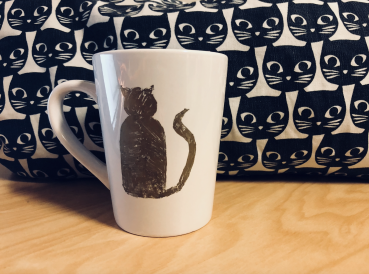 King Arthur Coffee for Kayleigh
Growing up, I have never been a coffee drinker, but that all changed last week, on Thursday, September 20, 2018 at 4:45 pm to be exact…
I have been on campus for about three weeks and I have not gone a day without hearing the buzz surrounding the King Arthur Flour café (KAF). Everywhere I look, it's as though everybody has the same paper cup with the famous KAF logo labeled across it. My curiosity got the best of me, and I finally made it a goal to visit to oh-so-popular coffee shop, located right in Baker Library.
Saying KAF is busy is an understatement; it is a total madhouse with lines stretching far out the door at any given time. While I was in line, I peered at the menu board and I have never felt so lost in my life. I was literally googling, "what is chai" and "how does an espresso taste." Finally, I decided to be adventurous with my drink and I made the decision to order whatever the customer ahead of me orders. Pretty daring, right?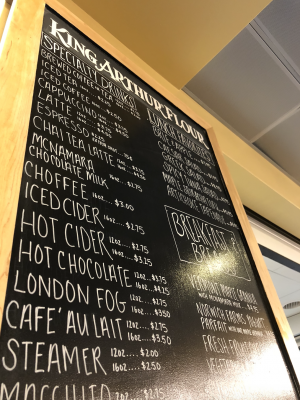 I ended up with the weird concoction of brewed coffee, topped with whipped cream, and caramel to seal the deal. As I stared at the foreign drink in my hands, I wondered to myself, "what am I doing? I hope I didn't just waste $5 of my dining dollars." As I took my first sip, I was expecting to immediately spit out the coffee, but I was shocked. I actually enjoyed the smoothness of the drink, and I felt myself sipping it more and more. Before I knew it, my cup was empty, and I felt myself wanting more. Lucky for me, the shop closed at 5pm and it was too late to grab another cup. Who knows how much I would've drunk if KAF was still open. 
People say college changes you. In my case, it changed my taste buds for good. I am now a self-proclaimed coffee lover and I am determined to find the perfect mix of caffeine that soothes my sleepiness in the mornings.