« All Posts by this Blogger
Living my best life
Hello! My name is Kate and I am a Senior Admissions Fellow and new student blogger! I'm really excited for the opportunity to share my Dartmouth experience with you all. I grew up in Charleston, SC, but I moved to a small town in Arizona when I was 13. My first cross-country move helped me with the transition from Arizona to Dartmouth, but it didn't even begin to prepare me for New Hampshire winters! See my freshman roommate's documentation of my first winter!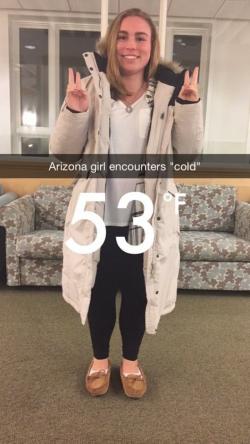 3 fun (non-Dartmouth) facts about me:
Before I came to Dartmouth, I was a competitive Irish dancer (and you can actually do a jig to Ed Sheeran's Galway Girl!)
I LOVE The Office and have watched the entire series at least four times. It never fails to make me laugh and I reference it at every chance I get.

I'm the middle child of three sisters, but people always ask me if my little sister and I are twins (even though she's 2 inches taller than me).
To be honest with you, I had never heard of Dartmouth before my college search process, and it wasn't until I visited campus that I began to fall in love with this place. The word I heard the most when students talked about Dartmouth was "community." As a social butterfly who has never understood "alone time," community was exactly what I hoped to find at college. At Dartmouth, I've found community not just with my friends, but with my classmates, my professors, my co-workers, my custodians, my sorority sisters—the list could go on and on. The people are what make Dartmouth so unique. I'm excited to share about me, my journey at Dartmouth, and the people I have encountered along the way. I hope People, Places, Pines gives you a little insight into the many different faces of Dartmouth—classmates, leaders, innovators, and friends.