« All Posts by this Blogger
Three Essentials for Battling a New England Winter
Would you believe it if I told you the photos above were taken less than 24 hours apart? As I emerged from my final class sessions of the fall term, I was reminded of the conclusion of autumn through another means: snow. Overnight (literally), the crisp autumnal landscape was covered in a blanket of white, making the view out of my dorm window practically unrecognizable. There are many incredible winter activities worth trying on campus, such as skiing at the Dartmouth Skiway (with easy ski rentals!), skating around Occom Pond, and ice-carving, marshmallow roasting, and Polar Bear Plunging at Dartmouth's annual Winter Carnival (great photos here). However, when walking between classes or running errands outside, the cold and snow can feel like more of a nuisance than a paradise. Talking with friends from warmer states and countries, Hanover's winters seem to be one of the most daunting aspects of Dartmouth life. Here are three tips I've found essential for keeping your cool during the coldest time of the year!
No. 1

Layers, Layers, Layers

You've likely heard the necessity of a good winter coat: something with insulation (be it down or a synthetic filling), a hood, and a water-resistant shell. However, another essential in keeping warm is layers. Wearing a base layer under your day clothes will give you a warmth boost that's low-profile, while a zippered fleece is easy for removal in warmer classrooms. The ability to customize with layers takes much of the guesswork out of staying comfortable both indoors and outdoors. 

The chills and gusts of the winter season can do some serious damage to your skin, especially with long exposure. If you have sensitive skin like me, it's essential to plan ahead before you find your entire face frozen and chapped. Applying an unscented lotion before bed and during your morning routine helps lock in moisture without irritating your skin. Also, carrying around a heavy-duty lip balm, like Burt's Bees or Aquaphor, will save you from the terrible sensation of chapped lips.

As dorky as they may look, snow boots are one of my must-haves. Not only do they keep your feet warm, but their height prevents your socks from getting soaked with melted snow and slush. I've damaged some of my favorite sneakers by wearing them in the snow, all in the name of fashion (see above). It's not worth it, I promise!
Last Friday my history professor, Professor Monahan, took a whole group of us down to the golf course near Occom Pond to Nordic ski.

Whether you are coming to campus for the start of your freshman year or returning after a break, the Coach is the first moment that "Dartmouth" exists.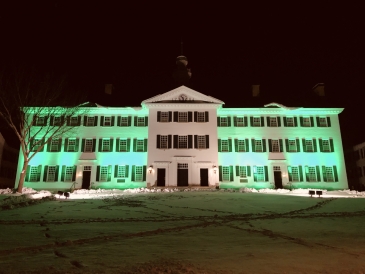 To celebrate its 250th anniversary, Dartmouth has implemented special programming throughout the term to spotlight the college's long history.

Melissa Barales-Lopez
2022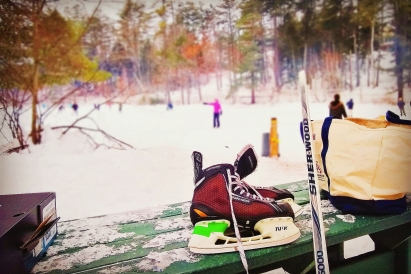 Watch as I endure a few falls as I learn to ice skate. Look out: I am now set to become the best Brazilian ice-skater-hockey-player-SUPERSTAR this side of Occom Pond!
First built in 1933 to service skiers on Mount Moosilauke (who knew the mountain hosted America's first modern downhill race?), the Lodge has serviced the Dartmouth and Upper Valley communities for more than eighty-five years.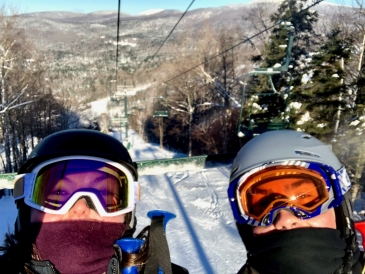 I had been to the skiway in the fall as part of my First Year Trip, but now that it's winter, it's covered in snow! That means it's ski time!

Dartmouth winters are frosty and beautiful, but since I'm unfortunately not on campus right now, let's talk about summer for a second!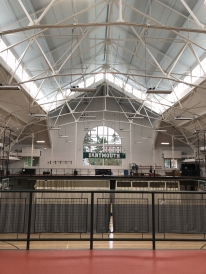 I set out to exercise more regularly and eat more nutrient-rich foods. Fortunately for me, Dartmouth is the ideal place to stick to such a resolution.

Melissa Barales-Lopez
2022
I spent last Friday night up in the mountains, jammin' in a cabin with the Cabin and Trail club, one of the many things that make Winter term the best time of the year!