You are here
« All Posts by this Blogger
Short Days, Long Nights
If you've been keeping up with my previous blog posts, then you have been hearing a bit about how my classes are going, including how I'm doing with time management. I understand why upperclassmen and advisors alike have emphasized the need to establish a schedule, because now that it's Week 4, I'm starting to feel the load! Readings are piling up, large papers are being assigned, and it seems like I have less and less time each day to get it all done.
That isn't merely a coincidence; Hanover is losing daylight at a drastic rate. Well, it's only three minutes a day, but in the grand scheme of things, this adds up. From the first day I arrived on campus to now, there's over an hour less of daylight, and it won't get better until well past the end of Fall Term. Even being from the Northern United States, it catches me by surprise every time; it seems as though I'll look down to finish reading a paragraph, and then look back up to a completely dark window. As someone who feels the most productive when the sun is at its peak, this can be a bit disheartening. Thankfully, there are redeemable qualities to Hanover's long, cold nights. I've made a list of a few ideas to make the most of them.
Collis After Dark is a program that offers late-night entertainment such as music, comedy, dance, and other opportunities. So far, there have been two concerts, a rollerskating rink, multiple movie nights, and an inflatable bouncy castle. If you and your friends are looking for something to do on Friday and Saturday nights, this is the place to go! Pro-tip: Collis Cafe offers incredible late-night snacks (pictured above) every day of the week in conjunction with its late-night programming. It's well worth the trek from the library or your dorm hall.

If you're from the city like I am, stargazing isn't an activity you can do often. But Hanover's isolated location makes it the perfect spot to see all the sky's constellations. Stargazing events are frequently put on by clubs and House communities. Your phone might not be able to snap a good picture, but the experience itself will be sufficiently memorable!

It sounds cliché, but going for a walk around campus is the best way for me to decompress and get rid of any stress. Removed of the hectic afternoon buzz, the Green and the surrounding buildings are majestic and peaceful, and the nighttime air is especially crisp. It's also a great time to call your parents or friends from home. If you feel more comfortable walking with friends, bring them along, too. Just make sure you pack a jacket!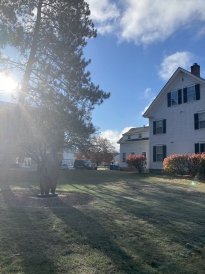 At the end of every term, without fail, Dartmouth students post memories of the past ten weeks captioned with some variation of a '20F' hashtag. Read all about 20FinalFall in this blog post!

Let's rewind back to the beginning of September...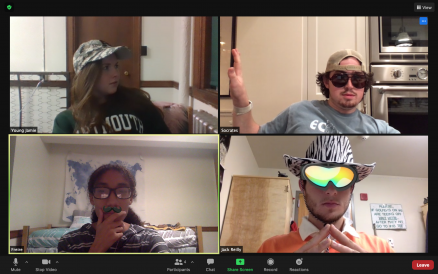 Holden Caulfield, Socrates, Paulo Freire, and Young Jamie got together via Zoom and put together a play for my writing course.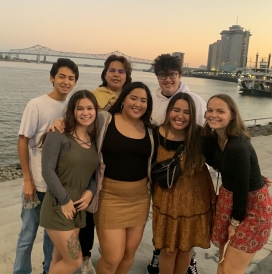 But at the end of the day, when people ask me what my favorite Dartmouth memories are, I'm always thinking about the place. Ice skating, pink sunsets, riverbanks, or canoeing? That's my highlight reel.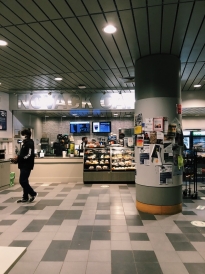 In a world where proper social distancing is so important, Novack Café has fulfilled a unique desire for current on-campus students; it's a place to study, hang out with friends, and grab a snack—all while staying COVID safe.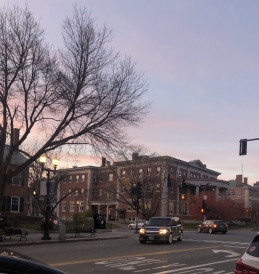 The last week of October was especially ~spooky~ as I was able to find more time than usual to enjoy my weekend with friends and the small-town-charm of Hanover.

While the student body at the College may be relatively small, students here recognize that their vote can hold a lot of weight in New Hampshire, a classic swing state.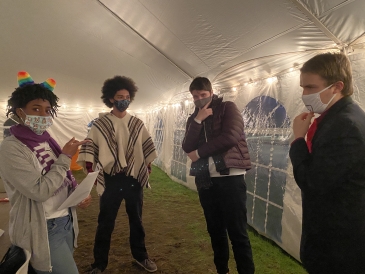 After walking around campus all day in eye-catching attire, we headed to a Murder Mystery night hosted by Phi Tau (a fraternity) in one of the tents scattered around campus.

On Friday, a few friends and I decided to take part in an event held by Collis After Dark, which organizes a lot of the student programming on-campus.