You are here
« All Posts by this Blogger
Making the Most of Finals
The dreaded finals season has arrived. Long before I began applying to college, I'd heard from older friends about the struggles of finals week: lengthy exams worth a quarter of your grade, research papers, and a general lack of sleep to accompany high stress levels. Some of this is true, but what they didn't mention was the amount of support you can find on campus. I've been blown away with all the resources Dartmouth has created in order to make myself and others less stressed, more productive, and more confident in their abilities when exam day arrives.
Many resources I've compiled are available year-round, and are simply available in greater capacities come finals season. Other stress-relieving activities are end-of-term exclusives. Either way, whether it's direct help on a big assignment or mental activities to destress, being aware of the resources available to you is crucial to make the most of your finals period. 
No. 1

Essay support from RWIT.

RWIT, the student center for Research, Writing, and Information Technology, is a service that offers support for writing essays and creating multimedia projects. RWIT employs a ton of knowledgeable tutors that can offer constructive feedback on your writing, help refine a rough draft, or even help with developing an initial outline. During finals period, I came into a drop-in session to get support on my Anthropology essay – even though it was only 15 minutes, having someone else's perspective on my essay was really valuable in making my writing clear and succinct.

No. 2

Review sessions from Tutor Clearinghouse.

Tutor Clearinghouse, Dartmouth's center for one-on-one academic support, offers a wide range of services year-round, such as free tutoring and a plethora of study groups for various classes. During finals period, Tutor Clearinghouse hosts a ton of review sessions for a wide range of courses. Led by undergraduate tutors, teaching fellows, and resident experts alike, these review sessions offer an extremely  valuable opportunity to clear up confusions and get help from those who are experts. While I didn't take any classes this term that had review sessions, friends who took Economics and Math courses found the review sessions to be extremely helpful. They last between one-and-a-half and two hours; short enough to sneak into even the busiest of schedules.

No. 3

Food from UGAs, Self-Care, and So Much More.

While studying and preparing for final papers and exams is certainly important, taking care of yourself mentally should be given equal priority. Thankfully, there are so many ways to engage in self-care during these stressful periods. Programs hosted by Collis After Dark offer massages, music, and therapeutic art leading up to the finals period, and '53 Commons gave out free soda to take on-the-go. Even within my dorm hall, my UGAs put on a free breakfast and gave out pizza when we needed a late-night study break. Sharing a meal with my floormates was a valuable reminder that although finals period can be tough, we're all going through it together. With the help of both academic resources and fun opportunities, I'm approaching my last days of fall term with an optimism I didn't expect. Sure, I'm a little exhausted, but it's nothing some free tea from Collis can't fix!
As a religion major, I am captivated by Portugal's complex religious history and was eager to learn more about the country on the ground.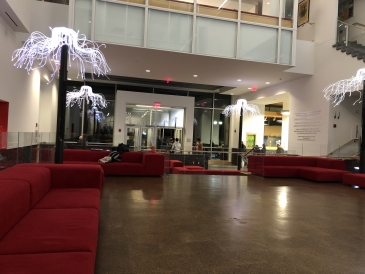 For all prospective students out there, this post will give you the 411 on the hidden gems at Dartmouth and provide you with an invaluable insider scoop to improving your efficiency here on campus. 

Melissa Barales-Lopez
2022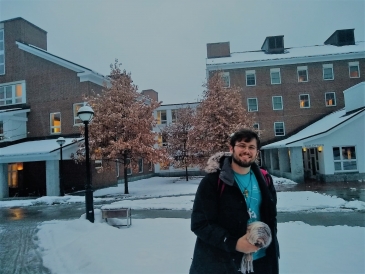 It houses 342 undergraduates, distributed between the various Living Learning Communities.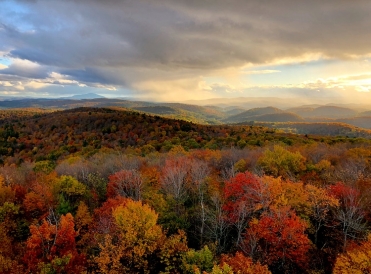 This particular weekend my friends and I decided to hike Gile Mountain, a trail near campus to a tower which gives an incredible view.

I have known a simple fact for most of my academic life: I would rather take an exam than write a paper.
Maybe because I literally have a tattoo of a mountain, or just because I like the outdoors, I find myself going on lots of hikes and really liking to explore the wilderness around campus.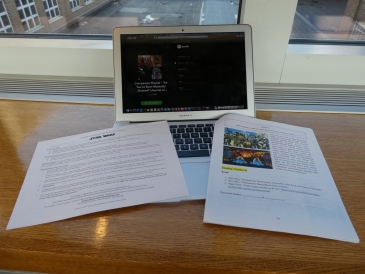 If you told me that one of my classes for Freshman Fall would involve reading and debating topics involving Britney Spears, video games, and Twitter culture, I wouldn't believe you.
During my time in Edinburgh, I am able to take six weekend trips to visit different countries (seven, if you count my trip back to Hanover for Homecoming).
Follow me on my Environmental Engineering (ENGS 37) adventure to three sites over three days starting with a trip to the water reclamation plant.