« All Posts by this Blogger
Why I Chose Dartmouth: The Term Academic Calendar
During my junior year of high school, my mom and I took visits to different colleges that I was interested in applying to. After our visits, I spent time making a "pros" and "cons" list of each school. After visiting Dartmouth, one of the pros on my list was the term academic calendar.
The term "academic calendar" is something unique to Dartmouth that not many colleges around the country utilize. Instead of operating on a two-semester academic calendar, Dartmouth employs four 10-week academic terms a year. Coinciding with the four seasons, the terms are referred to by the last two digits of the calendar year and the first letter of the season. For example, right now we are in winter term of 2020, so we call it 20W.
The College refers to this schedule as the "Dartmouth Plan" (or D-Plan) for short. Each student is required to be taking classes on-campus during the fall, winter and spring terms of their freshman and senior year, as well as the summer term after their sophomore year (we call this Sophomore Summer, and you can read more about it here). All of the other terms, however, students are able to customize their academic experience. Students can take an "off-term" and spend time relaxing, they could complete an internship or some type of work experience, they could study-abroad, or even spend the term on-campus in Hanover doing research, to name a few.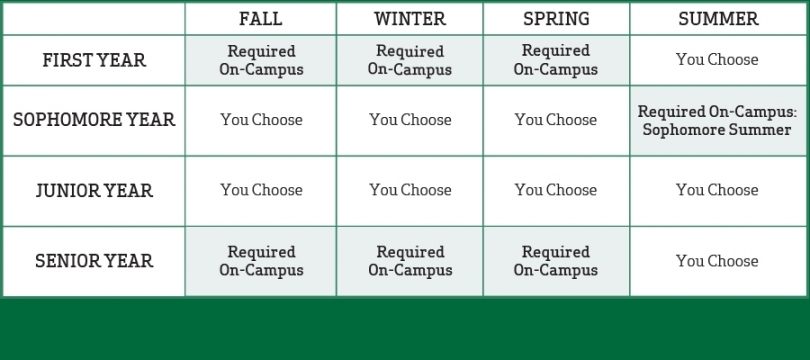 During your terms on campus, students generally take three classes per term. There are a few terms where you are able to take a four-class term or a two-class term, depending on your academic schedule. I love the shorter terms because it generally allows students to take more classes during an academic year than semester schools. Having a class for 10 weeks also means that if you don't absolutely love it, it's over pretty quickly.

While sometimes learning the content for a whole class in 10 weeks can be challenging, over all the term schedule has provided me with a flexibility that has defined my college experience. From studying abroad for 16 weeks, to interning for 9 weeks, to learning French for 10 weeks, the possibilities of what you do with your D-Plan are quite endless!