« All Posts by this Blogger
Reflections on My Penultimate Term!
Starting off the term sick with COVID-19 was certainly less than ideal, but my professors were accommodating, my roommates stayed far away, and a member of the Dick's House nursing staff went out of her way to drop off some food! After my recovery, this term was filled with outdoor adventures (see my last post about my favorite winter activities), job hunting, and of course, academics! I took a fascinating class called Arctic Environmental Change with Professor Culler—an experienced Arctic scientist who specializes in mosquitoes. We covered topics ranging from the effects of expanded trading routes on whale migration, to the impact of changing temperatures on the seal hunters of Utqiagvik, Alaska.
My other class was an English course called "Dartmouth Fictions", taught by Professor James Dobson. In a typical term, we would dig through the archives of Rauner Library–looking at old yearbooks and founding documents of the College. However, because of the remote format of teaching, we made use of Dartmouth's extensive digital archives. We've traced the origins and legacy of Dartmouth through alumni audio recordings, hand-drawn maps, and numerous memoirs. We even read a novel by a graduate of the class of 1987 and were then able to ask her questions directly when she came in as a guest speaker! Overall, this class allowed to me gain a much richer understanding of what has defined the "Dartmouth experience" over the centuries; the College has shifted monumentally, but remained the same in some fundamental–and very special–ways.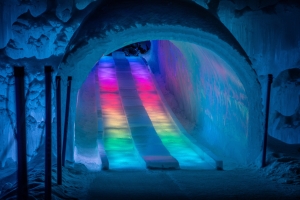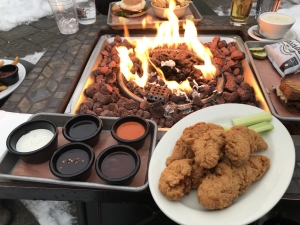 Other highlights of the term include visiting the Ice Castles and chowing down on these amazing chicken tenders (and accompanying sauces) from Harpoon Brewery. 
Finally, towards the end of the term, it came time for course selection. It was a surreal feeling to browse through the course time table and select my LAST EVER college courses. With all the incredible offerings at Dartmouth, it was very difficult to narrow my choices down to just three classes, but I'll write more about the final ones I chose in a future blog post! Despite some health challenges and stress of preparing for life post-graduation, this term allowed me to feel deeply connected to the people and places that define Dartmouth.