« All Posts by this Blogger
My Dartmouth: Global Opportunities and a Lifelong Family
A warm welcome to prospective students, parents, and anyone else eager to hear from the perspective of a current Dartmouth student. Given that you're taking the time to read this, you must be delving deeply into the search process—kudos to you for your curiosity!
My name is Julia Snodgrass and I am a '21, or rising senior, from rural Western Massachusetts. I love that Dartmouth students refer to themselves by their graduation year. Whether you're a '21 or a '64, you'll be part of the Dartmouth family for life. Even after you graduate, that title of being a '21 stays with you and reminds you of the connection you will always have to this community. I think that sense of a lifelong belonging speaks volumes about the kind of people and experiences you'll find here.
As a quick introduction, here are some fun facts about me:
I'm named after the Beatles' song and my friends make fun of me for having the music taste of a middle-aged man (I love Stevie Wonder, Led Zeppelin, Simon & Garfunkel, etc.)

My dad's name is James and his brother is Bond… this was completely unintentional.

International exposure is an essential part of my identity. My dad's side is Mexican, my mom's side is Jewish, my cousins are Iraqi, and we also have family in France and Colombia. I have been to 21 countries and hope to work or study internationally after graduation! 
In all honesty, when I began the college search process, I didn't give much consideration to Dartmouth. I left my tour here early—partly because I figured I wouldn't get in anyway, and partly because I thought it might be too elitist or stuffy. How wrong I was! I applied on a whim, figuring I would toss my name in the proverbial 'hat' and see what would happen. In the spring of my senior year in high school, a local Dartmouth alum saw my ultimate frisbee team in the newspaper and realized that I was a recently admitted student. Knowing the Dartmouth team had a regional championship near my hometown, he reached out to the captain, who then personally invited me to come meet the team. I arrived as they were warming up for the final game to qualify for the national tournament, but they all stopped to gather in a circle and introduce themselves. This moment exemplifies the spirit of the Dartmouth family, and over the years, I've become increasingly aware of what a privilege it is to belong to this family.
At Dartmouth, I have had access to opportunities that I would have never thought possible. I've conducted research on indigenous water access in the Kuiseb region of Namibia, explored prehistoric cave paintings in Cantabria, Spain, and studied biblical gender roles with a professor in Auckland, New Zealand. While Dartmouth has supported my global experiences, campus has always remained a dependable home to return to. It's a place where I can spend the night in a cabin with friends on a Tuesday, go sledding with local middle schoolers that I mentor on a Thursday, and ski instruct at our own ski mountain that weekend. 
I'm thrilled to begin this blogging journey—not only to make life at Dartmouth more tangible for you, the one reading this, but also as a tool for my own self-reflection, so that I approach this final year with a heightened level of intentionality. Till next time!
After a year at Dartmouth, I've been able to carve out little niches for myself where I'm able to explore my passions, which I'd like to share with you all!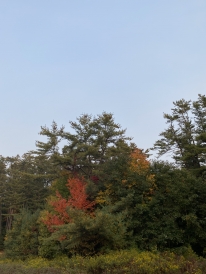 As I reckon with a Senior Fall that looks quite different than those past, I've decided to reflect on my previous Fall terms (both on and off campus) to help me find the common thread between four vastly different Fall term experiences.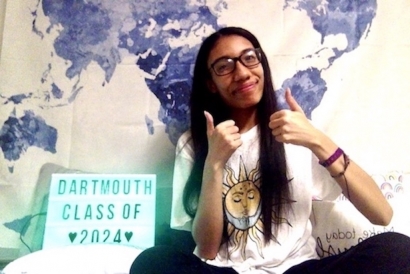 Hello, People Places Pines! My name is Kiara Ortiz, and I am a '24 from New York! After much anticipation, I finally get to experience this phenomenon known as "grass" at Dartmouth, and I am beyond thrilled.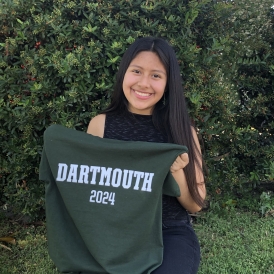 New blogger here! Take a minute or two to learn a little bit about who I am and embark on this journey with me.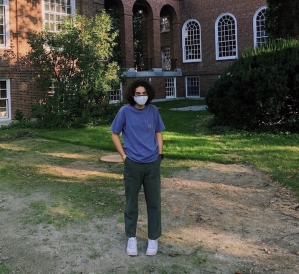 Hey, I'm Owen and I'm a '24 from Hollywood, Florida. I'm a twin, runner, vegan, bibliophile, and Latino Jew living in Hollywood, Florida but originally from Miami Beach.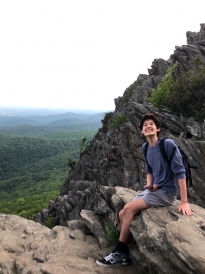 I'm here in Hanover and my time at Dartmouth has officially begun!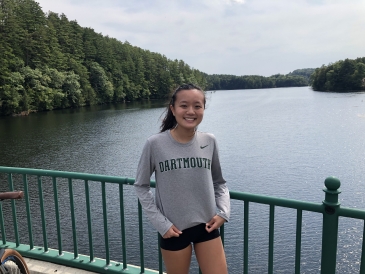 Hey hey hey! I'm Sydney and I'm a '24. I'm a third-generation Chinese-American who has moved around quite a bit, attending British school while living in Spain, international school in the Philippines, and boarding school in California.

My name is Michael Harrison '24 and I'm from Long Island, NY. Although my first official week as a Dartmouth student has just come to a close, it feels like I've been a part of the Dartmouth 'ecosystem' for a while now!
I left campus in August after sophomore year—little did I know I wouldn't be back until September of senior year! As hard as it's been being away for so long, I wouldn't change a thing.