« All Posts by this Blogger
Sophomore Family Weekend
Each summer, Dartmouth hosts "Sophomore Family Weekend" where they host families of those students who are on campus. This past weekend, my mum and brother were able to join me on campus and meet many of my friend's families as well! Here were some of my favourite activities of the weekend. 
When my family first got to campus on Saturday morning, we went on the Baker Bell Tower tour. The tour offers an incredible, 360 degree view of campus. You have to take the library elevator up to the seventh floor and then you walk up 100 steps. As you emerge into the top of the tower, the inside walls are decorated with the signatures and class years of alumni and current students. As you exit the door onto the small balcony, you can see the beautiful mountains of New Hampshire and a birds-eye view of campus.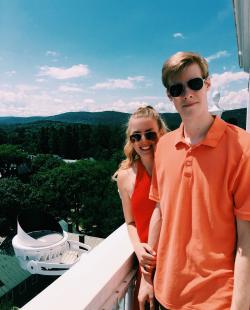 After the Baker tour, we headed to Collis for the Family Weekend Cookout. A BBQ lunch was provided for all families on campus and it was such a fun opportunity to spend some time outside (the weather was gorgeous this weekend!). I showed my brother around Collis, where we occasionally play pool in 8-Ball Hall (a games room downstairs), and the café where we grab late night snacks after evening classes or practices. After lunch, we headed to Dartmouth Hall where we got out picture taken with the Dartmoose, our unofficial mascot. 
After dinner at Jesse's, we headed back to campus for trivia night with my roommate and her parents. When we were finished with trivia, I brought my mum and brother to hang out at my sorority for a little. It was really fun to be able to show them where I spend most of my free time and the place where many of the friendships have been made. 
On Sunday after church, my brother and I headed down to the Ledyard Canoe Club and rented a canoe for the afternoon. We explored the Connecticut River before joining our mum and heading to Skinny Pancake to have crepes for brunch. For dessert, we headed across the street for Morano Gelato for a taste of Italian gelato before my family left campus to head home.
Some of the other activites that were offered this weekend that my family didn't get the chance to attend were visits to the Yacht club, a visit to the Hood Downtown exhibition and assorted faculty lectures. 
It was great to have my family in town this weekend. As my brother (who is a junior in high school) begins to explore his college options, I love to share my experience with him. Everytime that my family is on campus, I am reminded that not only is Dartmouth my second home, but it has provided me with an incredible family of friends, teammates, professors and many others who contribute to this incredible journey that we call college.