« All Posts by this Blogger
You Just Can't Get Me to Leave
Hey! My name is Jonathan, I am a '20 (meaning I graduate next year) from Rockaway Park, New York, and I haven't had a real term "away" from Dartmouth yet! To clarify, since my freshman fall I have either been on campus taking classes or doing research, or participating in Dartmouth sponsored, for-credit, off-campus programs. So as I said, even when I am away from Dartmouth, I have always been under the Dartmouth umbrella. I guess you can say that I really love it here and that Hanover has become a second home to me.
I came to Dartmouth because I loved the idea of being on a smaller sized campus with a strong sense of community, as well as its strong undergraduate focus. What I didn't realize about that undergraduate focus before getting here was the vast array of opportunities there was to get involved in research! I've researched everything from British subversion against the Soviet Union in the early Cold War, to finding ways to help mitigate loneliness in elderly populations through the use of word puzzles! I worked on the latter in Dartmouth's game design lab, Tiltfactor, which might be one of the coolest organizations on campus.
Beyond the research, I am double majoring in Government and Middle Eastern Studies, and I hope to go to law school after graduation. Where and what for? No idea yet, but after taking a bunch of law related classes here I know it's the right path for me. Outside of these academic pursuits, I commit most of my time to the Jack-O-Lantern, which is Dartmouth's comedy publication. I hadn't written comedy before coming to Dartmouth, but the club was really welcoming and taught me all I need to know, and now it is one of my favorite things to do! I also spend a lot of my time with the Jewish community here and the fencing team (another thing I didn't do until college).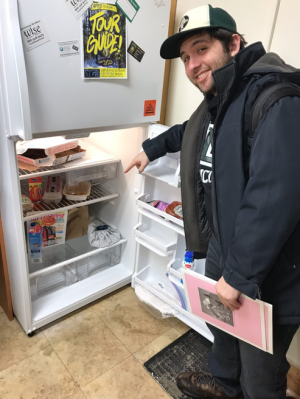 Now that I've covered the important stuff, here are three fun facts to know about me:
I learned how to solve a Rubix cube in under a minute's time just so I can use this as a fun fact. (Note: I have only solved it under a minute once)

I go ice fishing with a rabbi and his CrossFit buddies annually. And yes, that is a real sentence. 

I am an editor – in – chief of the Jack-O-Lantern, which is a position once held by Dr. Seuss (Theodore Geisel, Dartmouth class of 1925). Since I've already written an article entirely in rhyme, all I need is a cool pseudonym and then I'm basically a world-famous author.
I look forward to writing all about my time here, hopefully in a way that is both entertaining and enlightening!