An X-Fest and Farmaroo-filled Weekend
The Programming Board is a Dartmouth student-run organization that creates social and entertainment events on campus, most being free and open to the entire student body. For example, they organize the Green Key concert, Coffeehouse Concert series, ski weekends, and much more. Over the summer, the sophomore class plans X-Fest!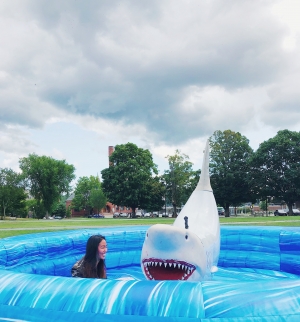 X-Fest is an event featuring free food, games, and even a mechanical bull, all held on the Green. After a few hours of studying in the library, my friends and I headed to the Green. It was a beautiful sunny day complemented with a breeze, perfect for a lunch outside and a study break. This summer, the Green has been home to many a farmer's market, concerts, and other events, drawing in people from the town of Hanover.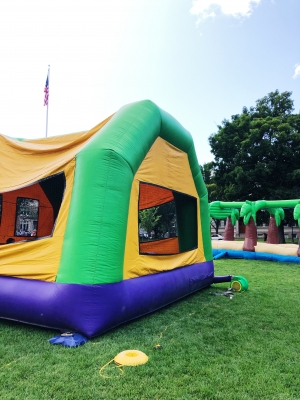 This time, however, only students occupied the Green, holding plates of hamburgers and hotdogs and walking around to all of the stands. There was a dunk station, mechanical bull, slip n' slide, and bouncy house. I only partook in the dunk station, and ended up hitting the mark and dunking someone on my first try. The satisfaction from that was enough for me, and I merely observed at the other places. 
The perfect literal cherry on top was the free Ben and Jerry's, a staple of most outdoor Dartmouth events. With my first ever tasting of Cherry Garcia in hand, I was content to chat with friends who stopped by at X-Fest and enjoy the peaceful summer day. It was already strange for me to think about the busy campus fall would bring, with an entire new freshman class arriving.  
After X-Fest, there was also Farmaroo, featuring live music and more food (of course) at the Organic Farm. It was my first time at the Organic Farm all summer, and I was eager to check it off of my 19X bucket list. On the way there, in one of the shuttle vans leaving campus, it started drizzling, much to my disappointment. However, I did not expect that once we reached the bottom of the farm, we would see a double rainbow! My friend and I joked about the reflection and refraction laws behind double rainbows, which we learned about during our previous term in PHYS4 – General Physics.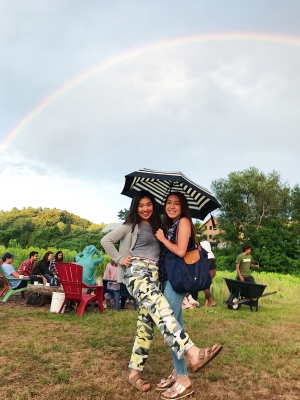 I ended up spending much longer than I had anticipated at Farmaroo, sitting near the fire and talking to one of my friends doing a Hanover FSP, which meant I did not see her much during the day. She spent the summer continuing the research she conducts during the school year at Dartmouth-Hitchcock Medical Center on immunology. I also ended up chatting with another friend on a Hanover FSP who was participating in the new TuckLAB program – a partnership between the Tuck School of Business and the Magnuson Center for Entrepreneurship. 
Although the number of students on campus is noticeably smaller than that during the school year, there is no doubt that the variety and diversity of what people are engaging in is no different. I'm grateful for the campus-organized events that bring people together to enjoy the splendid weather and share what we have been up to with one another – with a backdrop of people falling off mechanical bulls and smores roasting atop of a bonfire.